Fairies Finally Get Their Due With Gold Coin (1996)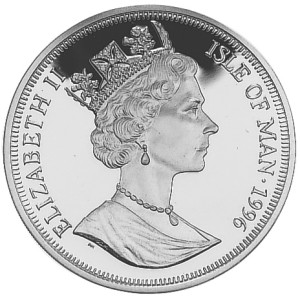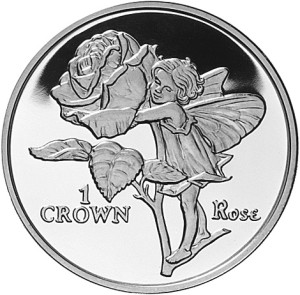 Arthur Conan Doyle created the world's the most believable fictitious character. On any given day, polls conducted on the streets of London will show that fully 70 percent of the population interviewed believe that Sherlock Holmes lived or still lives. Ask the same question about fairies and few, if any, would admit to believing in them, save for Conan Doyle himself, if he were alive. Conan Doyle believed so strongly in fairies that he once toured the lecture circuit to convince others of their existence.
Now, on the Isle of Man, midway in the North Sea between England and Northern Ireland, it soon will be possible to find a fairy in one's pocket!
The Isle of Man government has introduced a series of four coins depicting the flower fairies that captured childhood fantasies in generations past. Struck in cupro-nickel for circulation, in sterling silver and fine gold for collectors, these coins celebrate the 100th anniversary of the birth of artist Cicely Mary Barker and feature the fuchsia, rose, orchis and pinks flower fairies.
The designs of the Isle of Man's flower fairie coins are faithful in their exactness to the original detail of Barker's artwork.
Since the Isle of Man is a British Crown dependency, Queen Elizabeth's portrait, as Lord of Man, must appear on the obverse. The designs, too, had to have the queen's approval.
Further information on the silver-dollar sized cupro-nickel and sterling, as well as on the gold coins, along with a colorful brochure, can be obtained from the North American office of the contract minter, Pobjoy Mint, Ltd.
Originally published by the Los Angeles Time Syndicate – June 23, 1996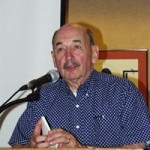 A prolific writer, Edward C. Rochette has authored several numismatic books, including The Romance of Coin Collecting, Medallic Portraits of John F. Kennedy and Making Money: Rogues and Rascals Who've Made Their Own. For many years, he wrote a weekly coin column nationally syndicated by the Los Angeles Times and a monthly column for COINage magazine, and penned his monthly column The Other Side of the Coin for the ANA's The Numismatist magazine.