Isle of Man Fairy Coins of 1996-1998
"'Do you find it interesting?'
'To a collector of fairy-tales.'"
– The Hound of The Baskervilles (HOUN)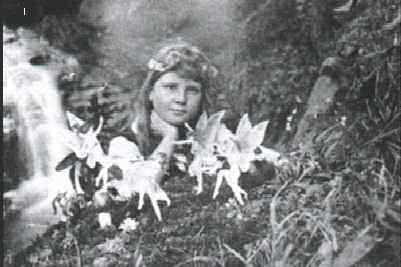 Arthur Conan Doyle's interest in spiritualism has been well documented. In 1917, two young cousins, Frances Griffiths and Elsie Wright, were photographed with "fairies," near Cottingley, England. These photographs were shared with a few family members who then showed these pictures to Edward Gardner of the Theosophical Society at one of the group's conferences.  From reports of the pictures of the "Cottingley Fairies," Doyle reached out to Gardner for more information. This led to the publication of Fairies Photographed in the December 1920 issue of The Strand Magazine. The photographs were again utilized in Doyle's 1922 book, The Coming of the Fairies.
Public reaction to the photographs of the Cottingley Fairies were mixed, with folks commenting on the pictures being true or faked. Doyle believed the photographs to be real and was never convinced otherwise. The two cousins kept up the story until the early 1980's, a few years before their deaths. Be sure to check out the video at the end of this post for more details.
In 1996, the Pobjoy Mint started a series of "fairy" coins for the Isle of Man.  For the next three years, four different designs would be featured on 1/25 crowns (0.04 oz. .999 gold), 1/10 crowns (0.099 oz. .999 gold), 1/5 crowns (0.1998 oz. .999 gold), 1 crown coins in both cupro-nickel and 0.841 oz. of .925 silver. Four designs, five denominations for a total of 20 different coins annually and a total of 60 coins for the three years.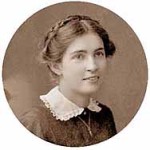 Cicely Mary Barker (June 28, 1895 – February 16, 1973) was an English illustrator best known for a series of fantasy illustrations depicting fairies and flowers. All 12 designs in the series are based on her illustrations
1996 Isle of Man Fairy Coins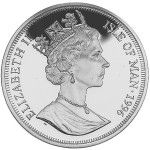 The four 1996 coins, the first in the three years series, feature the designs of a Rose, Pinks, Orchis and Fuchsia fairies.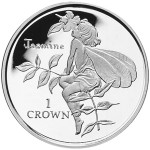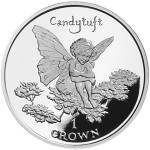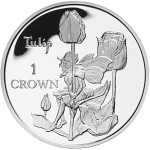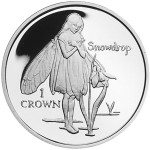 1997 Isle of Man Fairy Coins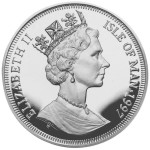 The four 1997 coins featured the designs of Jasmine, Candytuft, Tulip and Snowdrop fairies.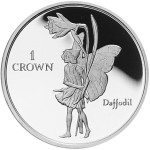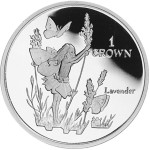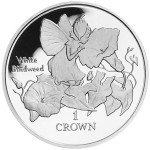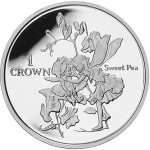 1998 Isle of Man Fairy Coins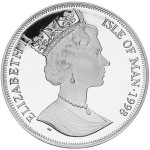 The final four coins of the series, released in 1998, featured the designs of Daffodil, Lavender, White Birdweed and Sweet Pea fairies.
Below is the video of the May 22, 1985 episode of Arthur C. Clarke's World of Strange Powers entitled "Fairies, Phantoms, and Fantastic Photographs". From about the 8:00 minute through the 14:00 minutes is a discussion of the Cottingley Fairies and has the two cousin talking about how they fooled Arthur Conan Doyle.