Gibraltar's 1994 221B Baker Street Crowns
" … some of the illustrious clients who crossed our humble threshold in Baker Street."
– The Adventure of Black Peter (BLAC)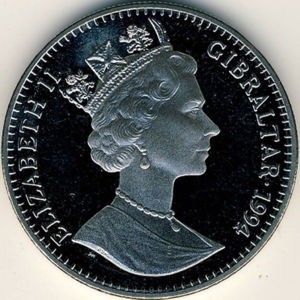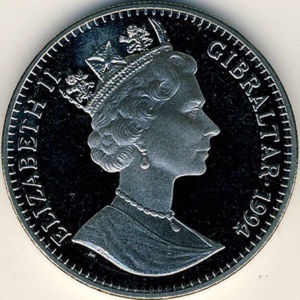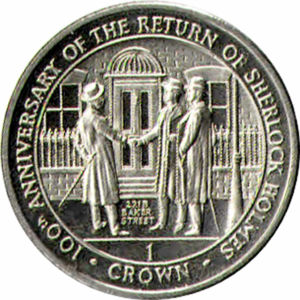 Gibraltar released 8 different designs for its 1994 series of coins commemorating the 100th anniversary of the return of Sherlock Holmes. In this post, we will discuss the three coins that feature an outside scene of 221B Baker Street – the legendary lodgings of Sherlock Holmes and sometimes of Dr. John H. Watson.
Edward C. Rochette, the 5th Garrideb, suggested the idea of a series of coins commemorating Sherlock Holmes while having discussions with Derek Pobjoy, the head of the Pobjoy Mint in the early 1990's. Pobjoy Mint then struck 8 different designs in 3 metals – cupro-nickel, sterling silver and .999 fine gold.
OBVERSE:  ELIZABETH II / (right facing bust of Queen Elizabeth II) / GIBRALTAR • 1994
REVERSE: • 100th ANNIVERSARY OF THE RETURN OF SHERLOCK HOLMES • / (3 gentlemen meeting outside a London home – according to some sources, the 3 gentlemen, left to right, are Arthur Conan Doyle, Sherlock Holmes and Dr. Watson ) / 221B / BAKER / STREET / 1 / CROWN
KM287  – Round, 36.60 mm, Cupro-Nickel, 28.28 grams, Reeded Edge, unknown mintage
KM287a – Round, 36.60 mm, .925 Sterling Silver, 28.28 grams, Reeded Edge, 30,000 minted
KM279 – Round, 22 mm, 1/5 ounce .999 Gold, 6.22 grams, Reeded Edge, 5,000 minted
The press release, issued by the Pobjoy Mint, announcing these coins is somewhat vague and implies that all three coins are Crowns. The Standard Catalog of World Coins 1900-1999 (whose KM catalog numbers we are referencing above) lists the gold coins as being a 1/5 Crown. If this is the case, a slight modification is needed to the reverse description above.
Issue prices were $6 for cupro-nickel, $35 for the sterling silver and $165 for the gold coins.