Somogyi Designs Holmes Centennial Medal (1987)
"… But you'll always find scratches round a keyhole."
– The Adventure of the Golden Pince Nez (GOLD)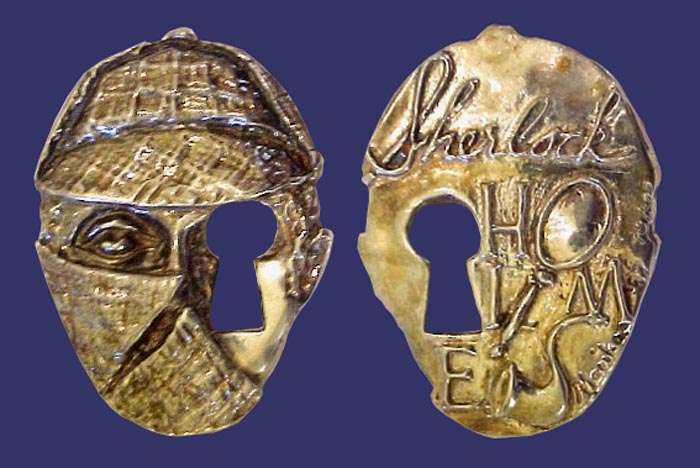 Reprinted from the November 18, 1987 issue of Coin World
An art medal commemorating the centennial of the Sherlock Holmes character has been created by noted West Coast artist Marika Somogyi.
Sir Arthur Conan Doyle, creator of the fictional Sherlock Holmes, sold his first Holmes story, A Study In Scarlet, to Beeton's Christmas Annual where it was published in 1887. The author received £25 for his effort, but publication of the story launched one of the most famous fictional characters ever created.
Over the last century, numerous artists and actors have portrayed the great detective as Doyle conceived him in the first Holmes story: "a man with a thin hawk-like nose, piercing eyes, and so excessively lean that he seemed even taller than his actual six feet."
Artist Somogyi now adds her name to the lost of Sherlockian interpreters, producing a free-form commemorative that should appeal to countless enthusiasts of the perennial resident of 221B Baker Street.
The medal is in the form of Holmes' head. He wears the familiar deer-stalker cap (a device Doyle's Holmes never wore in any of the four novels or 56 short stories, but is a creation of the theatrical Holmes). His collar is upturned, covering the lower portion of his face. A keyhole pierces the area around his left eye. On the reverse, the full name "Sherlock" is inscribed in script. "Holmes" is spelled out in capital letters, with the shape of a magnifying glass forming the "O" and his famous pipe (the curved pipe is another theatrical invention; the Holmes of the stories preferred a straight-stemmed pipe) forming the "S."
The medal measures 2 1/8 by 1 5/8 inches and is being cast in sterling silver  (.925 fine) and 14-karat (.5883 fine) gold. The sterling version weighs approximately 2 troy ounces and the gold pieces weigh about 2.5 troy ounces. Each commemorative is signed by the artist and is individually serial numbered.
The quantities of Somogyi Sherlock Holmes commemorative medals are limited to 300 silver and 35 gold specimens. The silver medal is priced at $99.50; the gold medal is prices at $995 respectively. The medal can be supplied with an optional loop, permitting it to be worn as a pendant or watch fob, if specified.
Prices are subject to change, if the price of gold exceeds $485 per ounce.
Exclusive distributor of the Sherlock Holmes commemorative medal is Numismarketing Associates, 5189 Jeffdale Ave., Woodland Hills, CA 91364. Orders with remittances should be sent to this address.
Since each medal is produced by the classic lost-wax process, then hand-finished and antiqued, purchasers should allow about 60 days for delivery.
Originally published in the November 18, 1987 issue of Coin World.