An Advertising Token Of The Daily Chronicle
"So much for the Daily Chronicle …"
– The Adventure of The Cardboard Box (CARD)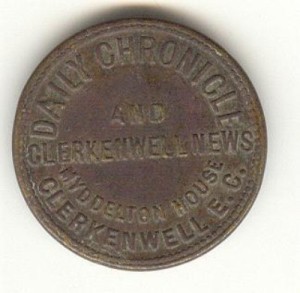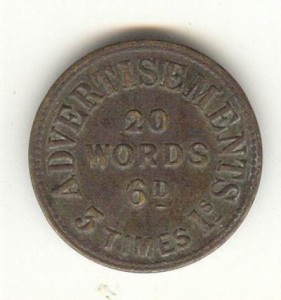 In 1872, a halfpenny newspaper called Clerkenwell News was launched in central London. Four years later, publisher Edward Lloyd would buy the paper and rename it The Daily Chronicle. The above token was issued shortly after this time period.
Arthur Conan Doyle had his poem H.M.S. Foudroyant published in the September 12, 1892 issue of The Daily Chronicle, which we discussed in this earlier post.
By the time World War I started, The Daily Chronicle had a circulation greater than the combined sales of The Times, Daily Telegraph, Morning Post, Evening Standard and the Daily Graphic. The Daily Chronicle would hire Doyle to write several articles from the various fighting fronts later in the war.
Between 1892 and 1919, Doyle would have published 31 letters, 16 articles, 4 interviews and 1 poem published within the pages of The Daily Chronicle. A complete list of these works can be seen here.
In 1930, The Daily Chronicle would merge with Daily News to form the News Chronicle. The News Chronicle would continue until October 17, 1960 when it was absorbed by the Daily Mail.