The Tramp And The 'Tec: Charlie Chaplin and Sherlock Holmes
"'Beg pardon, sir,' said our page-boy …"
– The Adventure of The Yellow Face (YELL)
Many Sherlockians are familiar with the play Sherlock Holmes, or The Strange Case of Miss Faulkner ("Sherlock Holmes") by Arthur Conan Doyle and William Gillette. A substantial number are also aware that the play's performance in Britain in 1903 marked the breakout theatrical debut of the then-teenaged Charles Spencer ("Charlie") Chaplin in the role of Billy, the page at the rooms at 221B Baker Street. Fewer, however, may be conversant with details of how the young Chaplin achieved his role in its production that gave rise to the career of one of the greatest film stars of all time. Little Sherlockian scholarship has heretofore focused on this facet of the play*1 and it is to that aspect that this article is addressed.
Sherlock Holmes, the Play (1898-1903)
Doyle faced an economic dilemma in 1898.  He had achieved success as literary agent for a fellow medical man, John H. Watson, who had chronicled the cases of the world's first, and greatest, consulting detective.   However, in The Final Problem published in 1893, Watson had reported the death of Sherlock Holmes.  Since then Doyle had engaged in his own literary career, but without the additional opportunities afforded by placing Watson's accounts with The Strand Magazine.  Moreover, in 1897 Doyle had built a new country house, Undershaw, at considerable cost, and needed additional income.*2
Accordingly, he penned the script for a play based upon the duo of Holmes and Watson, as well as Professor Moriarty and a number of other Canonical characters.*3  His literary agent gave the script to Charles Frohman, the era's foremost American producer of plays, who had also enjoyed success as a London producer.  Frohman eagerly bid with Doyle for production of the play,*4 but he cautioned that the script would require rewriting.  Seizing this golden opportunity to cash in, Doyle happily granted the theatrical rights to Frohman.*5
Gillette, who had collaborated with Frohman in other productions, was given Doyle's script for revision, concluded that it was unworkable, and rewrote it virtually from scratch.  In a decision that would have unforeseen consequences for the entertainment industry's future, in the rewritten play Gillette gave the previously anonymous page at 221B, who had appeared in A Case of Identity (as "the boy in buttons"), The Noble Bachelor, The Yellow Face and The Naval Treaty, both a speaking role and a name: Billy.
Following a successful run on Broadway, the play debuted in London in 1901 and was once again a hit, with the original run of twelve weeks later extended until April 1903.  Frohman then made plans to further exploit the play's success with touring companies in Great Britain.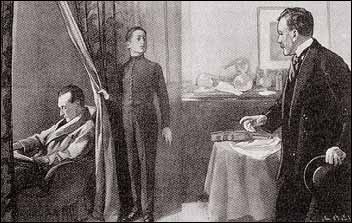 "Billy advanced and drew away the drapery"
Illustration by Alfred Gilbert for The Adventure of the Mazarin Stone, The Strand Magazine, October 1921
Enter Master Charles (1903-1906)
In June 1903, twelve year old Chaplin, the cockney son of an alcoholic music hall actor and a mother who was a singer, received a card asking him to appear at the offices of Blackmore's, a theatrical talent agency. He was interviewed by Mr. Blackmore himself and then sent on to the Frohman London office, where Chaplin was offered two roles. Most important, he was to play Billy for a run of 40 weeks in a Sherlock Holmes company touring in the Midlands and the North of England. Additionally, there was a boy's part in a new play titled Jim, the Romance of a Cockney, written by the actor who would play Holmes in the touring company, to be produced for a two week trial run prior to the tour. Chaplin was sent to meet Harry Arthur Saintsbuy, the lead actor in the Sherlock Holmes touring company and author of Jim.
Saintsbury was an accomplished playwright and an actor who had made his name on the Victorian stage in romantic roles. (As Chaplin was later to write,*6 Saintsbury was also "a living replica of the illustrations of Holmes in the Strand Magazine, with a long sensitive face and a wonderful forehead."*7). Saintsbury offered young Chaplin the part of "Sammy the newsboy" in Jim, stating that role was one of the most important characters.
In one of those moments on which so much of later importance rises or falls, Saintsbury then handed the script of Jim to Chaplin. Chaplin feared that Saintsbury might ask him to read from his part on the spot, because he had little formal education and was, by his own later admission, almost unable to read.*8 Fortunately, Saintsbury told him rehearsals would not start for another week, and to read over the script at home. There, his half-brother Sydney helped Charlie to memorize Sammy's lines.*9
Saintsbury took Charlie under his wing and instructed him in such techniques of stagecraft as pausing after a comedic line, taking a cue, etc. He also corrected young Chaplin's admitted tendency to move his head and mug unduly while speaking. Chaplin was a quick study and readily took to Saintsbury's mentoring. Ironically for an actor who later became renowned for his gifts of physical comedy, Chaplin's greatest difficulty turned out to be the mechanics of stagecraft, such as handling a tray or other props, at which he considered himself clumsy.
Jim was panned by the critics, but Chaplin received complimentary notices.  One presciently wrote that the role of Sammy "was made vastly amusing by Master Charles Chaplin, a bright and vigorous child actor.  I have never heard of the boy before, but I hope to hear great things from him in the near future."*10  Following the closing of that play, the Saintsbury company commenced its Sherlock Holmes tour in the provinces.  It then played in the London suburbs, where its performances were again phenomenally successful.
Chaplin as Billy in an undated photo
By this time, Chaplin was so skilled playing Billy that his plaudits were cited in the play's advertisements.  For example, a notice for a London area performance repeated this praise from a critic: "A faithful portrayal of 'Billy' is given by Master Charles Chaplin, who shows considerably ability and bids fair to develop into a capable and clever actor."
The Saintsbury company broke up for good during the summer of 1904, but Charlie was able to catch on as Billy with another of the provincial road companies that were then performing Sherlock Holmes.  However, a second rate producer had bought the touring rights from Frohman, and for Chaplin it was a depressing come down playing the smaller towns in the north of England with an inferior company,*11  But just when his career seemed to have dimmed, fate again smiled on young Charlie.  Gillette had come to London to star in a production of Sherlock Holmes.   Summoned to Gillette's dressing room, Chaplin was asked "Would you like to play in Sherlock Holmes with me?"  In a burst of nervous enthusiasm, Chaplin replied "Oh, very much, Mr. Gillette!" He was so excited that he even neglected to ask about his wages.*12
At the rehearsals young Chaplin developed an instant crush on Marie Doro, the actress playing Alice Faulkner, "transfixed at her beauty."  Years later, when Chaplin was the world's leading silent motion picture actor, Doro visited Hollywood and told a friend that he was the one person there she hoped to meet.  She had no idea he had played Billy in her company.  When they were introduced, Chaplin told her "But we've met before.  You broke my heart.  I was silently in love with you."*13  However during the run of Sherlock Holmes the teenage Chaplin was too shy to do more than say "Good evening" as they passed backstage.*14
Sherlock Holmes reopened in London on October 7, 1905, where it was again a great success.  By then, Chaplin was an accomplished hand at portraying Billy.  He continued to garner praise for his performances, including an entry in the first edition of The Green Room Book, precursor to Who's Who on the Stage.  There he was described as "an impersonator, mimic and sand dancer" who had "fulfilled engagements with several of Charles Frohman's companies (playing Billy in Sherlock Holmes) at many of the leading variety theatres in London and the provinces."*15  Sherlock Holmes with Gillette and Chaplin continued its run into November, 1905, ending with a royal gala performance.  Marie Doro was now to return to America, and on the night of the final performance Chaplin went off alone and in his words got "desperately drunk."*16  Chaplin played Billy in another road company until March 1906, when he was let go.  He was by then 17 years old and no longer a child actor, and would pursue other endeavors in the entertainment world.
Afterward (1907-1977)
Chaplin immigrated to the United States in 1912 and became employed by the Mack Sennet studio, which in February 1914 released his first movie with his Little Tramp character.  It was an immediate sensation among film audiences and Chaplin quickly became a popular Hollywood star.  He portrayed the tramp in over a hundred silent movies until he officially retired the character in Modern Times, released in 1936.  In The Great Dictator, released in 1940, Chaplin acted in his first "talkie," satirizing the European forces of fascism.  The film was seen as an act of great courage given the political environment of the era.
But following World War II Chaplin was persecuted for his left wing views, particularly by J. Edgar Hoover's FBI.  When Chaplin visited Britain in 1952, Hoover had his re-entry permit revoked.  Chaplin went to live in Vevey, Switzerland, near Geneva.*17  He returned to the United States only once, in 1972, to accept an honorary achievement award from the Academy of Motion Picture Arts and Sciences "for the incalculable effect he has had in making motion pictures the art form of this century."*18
Chaplin died in his sleep at his Swiss home on Christmas Day 1977 at the age of 88 and was buried in Vevey.  Hopefully his final hours were made more bearable by happy memories of his youthful day when he trod the boards as Billy and all the world was bright with promise.
Personal Postscript
In 1937, a young lawyer graduated from Columbia Law School and went to work at an entertainment law firm that represented many prominent motion picture personalities, including Chaplin.  The young lawyer formed a strong friendship with Chaplin and soon became his attorney, a personal and professional relationship that lasted until Chaplin's death.  I am very proud to say that lawyer was my late father, Herbert P. Jacoby.

*1      For example, a computer search of the eBakerStreetJournal performed in April 2014 for mention of Chaplin in the published BSJ since 1946 disclosed only slightly more than a dozen such references, almost all in passing, to the famous actor and his role in the play.
*2      Daniel Stashower. Teller of Tales: The Life of Arthur Conan Doyle (Henry Holt and Co., New York, 1999), pp 212-213.
*3      For a full description of how the play and its script were developed, see Henry Zecher, William Gillette, America's Sherlock Holmes (Xlibris Corp, 2011).
*4      "We must get those Doyle stories," Frohman told Gillette. Isaac Marcosson and Daniel Frohman, Charles Frohman: Manager and Man (Harper & Brothers, New York, 1916), p 101
*5      Doyle was delighted by the play's commercial potential: as he wrote to his mother, the play "is to make all of our fortunes." John Lellenberg, Daniel Stashower, and Charles Foley, Arthur Conan Doyle: A Life in Letters (Penguin Press, New York, 2007), p. 419
*6      Charles Chaplin, My Autobiography (Simon and Shuster, New York, 1964) ("Autobiography").
*7      Ibid, p. 81.
*8      Ibid, p. 77.
*9      Ibid, p. 78
*10    David Robinson, Chaplin: His Life and Art (DaCapo Press, New York, 1994) ("Robinson"), p. 47
*11    Joyce Milton, Tramp: The Life of Charlie Chaplin (Harper Collins, New York, 1996), p. 36.
*12    Autobiography, p. 88.
*13    Ibid, p. 219. When they both later visited New York City, Dora invited Chaplin to dine with her.  Chaplin's Autobiography (p. 220) states that the two "just dined quietly in Marie's apartment alone," but because the adult Chaplin was a notorious womanizer, his biographers disbelieve this claim of a platonic meal.  As one of the decorously wrote "Chaplin would not have been Chapin if he had simply dined quietly with Marie."  Kenneth S. Lynn, Charlie Chaplin and His Times (Simon and Shuster, New York, 1997)("Lynn"), p. 211.
*14    Lynn, p. 77
*15    Ibid.
*16    Autobiography, p. 92.
*17    Robinson, pp. 544-630.
*18    See http://en.Wikipedia.org/wiki/ Academy-Honorary _Award#1970#
This post was originally published in the 2014 Irene's Cabinet, Volume 12, published by Watson's Tin Box of Ellicott City, Maryland.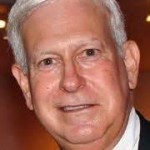 Peter H. Jacoby is a retired attorney, a Master Copper Beechsmith of Philadelphia's Sons of the Copper Beeches and a cofounder of The Napoleons of Crime. An active member of the Hounds of the Internet and several other mid-Atlantic scions, Jacoby has had papers published in The Baker Street Journal, The Watsonian, and The Serpentine Muse, among others. When not penning another article about Holmes, Peter enjoys military history and learning about shipwrecks.