The Inquisition: A Study In Scarlet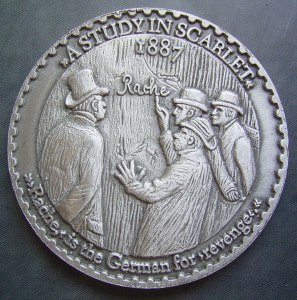 Our Inquisitor, Denny Dobry, is back with another of his killer quizzes – as always, each quiz will be on the featured story of the month.  This month is A Study In Scarlet.
1. Name three institutions at which Dr. Watson learned his trade.
2. Of what Scarlet-eyed creature was Drebber apparently fond?
3. Okay Numismatists – What was the approximate equivalent of Watson's 11s/6p income in 1881 and 2011 US Dollars?
4. What did Watson have for breakfast on March 4th?
5. Where did Watson meet Stamford?
6. Drebber's landlady had trouble avoiding regurgitating what?
7. In the London venue of STUD, death arrives in three different ways, one method is found twice. Name the three different ways.
8. This reference is likely to a Pennsylvania venue.
Good luck! We'll have the answers posted towards the end of May.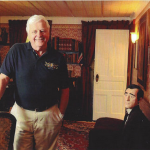 Our Inquisitor, Denny Dobry, was accepted as a Journeyman Copper Beech Smith at the April 2015 meeting of The Sons of The Copper Beeches of Philadelphia. If you are ever in the Reading, PA area, you should check out his recreation of the sitting room at 221B Baker Street. You can learn more about his sitting room by clicking here.