Deutsche Sherlock Holmes Gesellschaft Issues 2012 Holmes MedaI
'"Rache" is the German for "revenge""
– A Study In Scarlet (STUD)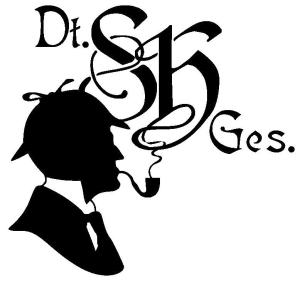 Deutsche Sherlock Holmes Gesellschaft, a Sherlock Holmes society based in Germany, held the inaugural SherloCON in Hillesheim during August 2012.

The event organizers issued a limited edition medal for sale at the event, which was commemorating the 125th anniversary of Sherlock Holmes first appearance.  The reverse would honor the first story in the Canon, A Study in Scarlet, and features the iconic scene where the word Rache (German for revenge) was scrawled on the wall.
OBVERSE: 1887 >> 125 Jahre Sherlock Holmes << 2012 / Dt. SH Ges. (profile bust of Sherlock Holmes smoking a pipe, facing right) / Deutsche Sherlock – Holmes – Gesellschaft
REVERSE: >> A STUDY IN SCARLET << / 1887 / (Inspectors Gregson and Lestrade, Holmes and Watson inspecting the writing of Rache on the wall) / >>> Rache,< is the German for >revenge<. <<
40 mm, German Silver, Round
Mintage was limited to 100 pieces.