Deutsche Sherlock Holmes Gesellschaft Issues Medal for Sherlock Holmes' 160th Birthday
"My mind rebels at stagnation. Give me problems, give me work."
– The Sign of the Four (SIGN)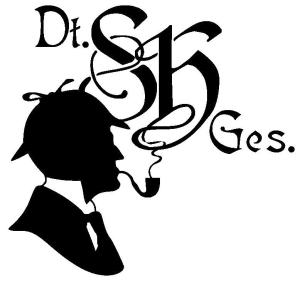 Deutsche Sherlock Holmes Gesellschaft, a Sherlock Holmes society based in Germany, held the two day SherloCON 2014 in Saarbrücken this past August.

Much like they did at their 2012 event, they issued a limited edition medal to commemorate the event.  This year's medal features a scene and quote from The Sign of The Four, in addition to celebrating the 160th birthday of Sherlock Holmes.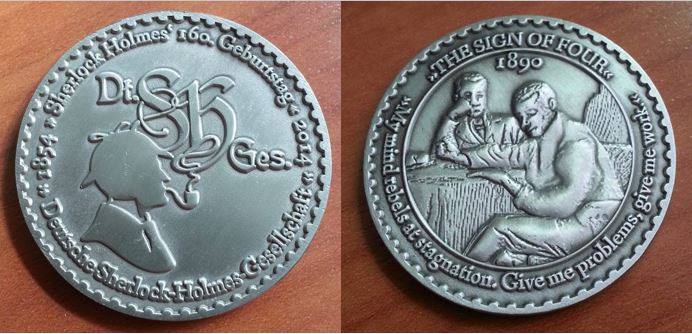 OBVERSE: 1854 >> Sherlock Holmes' 160. Geburtstag << 2014 / Dt. SH Ges. (profile bust of Sherlock Holmes smoking a pipe, facing right) / >>Deutsche Sherlock – Holmes – Gesellschaft <<
REVERSE: >> THE SIGN OF FOUR << / 1890 / (Watson and Holmes sitting at a table) / >> My mind rebels at stagnation. Give me problems, give me work. <<
40 mm, German Silver, Round
Mintage was limited to 100 pieces.  At the time of this posting, examples are still available from the event organizers for 15 Euros, plus shipping and transaction charges.