Revisiting our August 2015 HolmeWork Assignment – A Aluminum Medal of Holmes
"Each of these wore some scarf or medallion as emblem of his office."
– The Valley of Fear (VALL)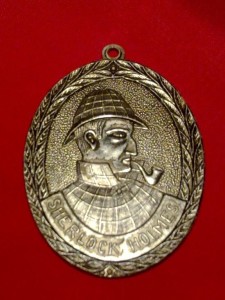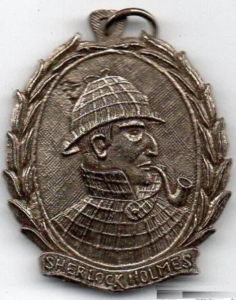 Back in August of 2015, we did a HolmeWork Assignment on the aluminum Sherlock Holmes medal, pictured on the left with the red background. We had no information, at the time, on this 65mm x 45mm medal.
We are now aware of another aluminum medal with a similiar portrait of Holmes, but smaller at 40mm x 30mm and it is not a pure oval as the original piece. It is pictured on the right, above.
It is now believed that both of these medals were found in Spain, but we have been able to learn no additional details.
Anyone else seen either of these before and have any additional information? Please contact your friendly Editor if you can supply any additional facts.