Windsor Mint Strikes 2019 Sherlock Holmes Consulting Detective Medal
"It might be his portrait."
– The Hound of the Baskervilles (HOUN)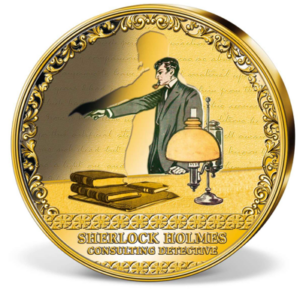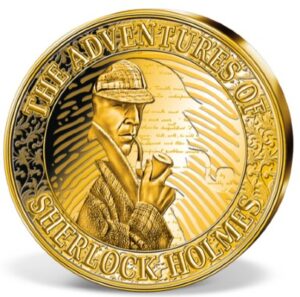 In the fall of 2019 the Windsor Mint, a private United Kingdom organization, released a gold plated copper medal honoring Sherlock Holmes.
The obverse of the medal closely resembles the cover drawn by Frederic Dorr Steele for September 24,1904 issue of Collier's that contained The Adventure of the Three Students.
OBVERSE: (filigree)/ (Sherlock Holmes, facing left with pipe & revolver, with books and lamp in foreground) / SHERLOCK HOLMES / CONSULTING DETECTIVE / (filigree)
REVERSE: THE ADVENTURES OF / (3/4 profile of Holmes in deerstalker, with pipe, facing right, superimposed on a right facing silhouette of Holmes, with a fingerprint as the background) / SHERLOCK HOLMES
50mm, 24 karat gold plated copper, Round
The medal retails for £10 at the Windsor Mint's website, but if you scan their site, there are ways to save £5. Now, the bad news. They do not ship to North America.