Sherlockian Poker Chips, Part II
"… playing poker up to midnight …"
– The Valley of Fear (VALL)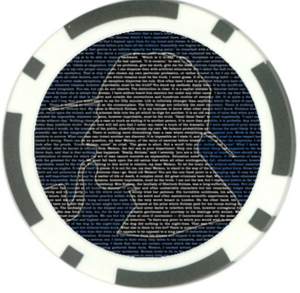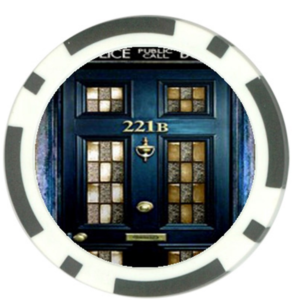 Back in 1960, when the Token and Medal Society was formed, the group's founders coined (pardon the pun) the word EXONUMIA to describe what they collected – simply NOT MONEY. For our purposes here, we catalog any items that are a substitute for cash or monetary transactions. There is a speciality club, the Casino Chip and Gaming Token Collectors Club, for the collectors of these items well be discussing in this post. To date, we are not aware of any casino chips that have Sherlockian themes, but there are a few poker chips that are available. Back in February 2017, we reported on several of these chips. We now can report on two additional designs.
Our first chip features a profile of Holmes, facing left, wearing a deerstalker cap and smoking a pipe. The entire design is composed of quotes from the Sherlock Holmes stories. The second chip is an homage to both Dr. Who and Sherlock Holmes, featuring a TARDIS device with a door that is from 221B Baker Street.
These can be purchased individually or in packs of ten from Cow Cow. Five colors are available for the borders on the edge — black, red, blue, green and orange.