"… playing poker up to midnight …"
– The Valley of Fear (VALL)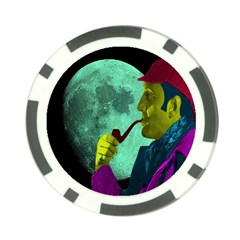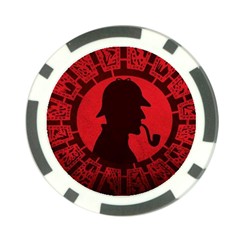 Back in 1960, when the Token and Medal Society was formed, the group's founders coined (pardon the pun) the word EXONUMIA to describe what they collected – simply NOT MONEY. For our purposes here, we catalog any items that are a substitute for cash or monetary transactions. There is a speciality club, the Casino Chip and Gaming Token Collectors Club, for the collectors of these items well be discussing in this post. To date, we are not aware of any casino chips that have Sherlockian themes, but there are a few poker chips that are available. These poker chips sould appeal to those who enjoy playing online table and slot games on phone casinos. If you're interested in a variety of different places to enjoy slot machines it might be worth checking out สลอตฟรเครดตไมตองฝากเงน. I've heard from a friend that its a fun game.
Our first chip features Basil Rathbone, as Holmes, facing left, wearing a deerstalker cap and smoking a pipe. A full moon is in the background. The second chip features the primary design of the cover of the book Sherlock Holmes and the Servants of Hell. This red and black design has a right-facing profile of Holmes with deerstalker cap and pipe. They can be purchased individually or in packs of ten from Cow Cow. Five colors are available for the borders on the edge — black, red, blue, green and orange.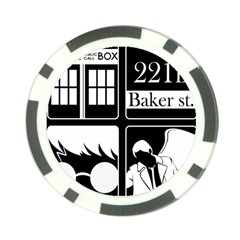 Our third chip is no longer available from Cow Cow and features a quartered design that mentions 221B Baker Street. Unfortunately, we do not know what colors were available.
All three of these chips are made of clay, are 38 millimeters wide, 3 millimeters thick and weigh 12g. The same design is used for obverse and reverse, but there are options to customize one side with your own design and/or wording. If you use these in a game, we're sure all of your opponents will be jealous. You might want to practice on deuces and joker video poker first before you play with these coins though. It would be a shame to lose them. At least with online games you don't get attached to the chips. You might also find that with the video poker you can perfect your game all from anywhere. You could be at home, commuting or even at work. Online poker, like online gambling such as uudet nettikasinot, is accessible everywhere.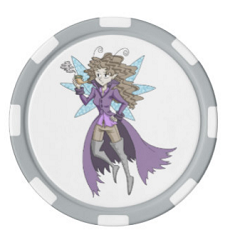 Our next poker chip features a design called "a fairy named Deduce." The designer states that "Deduce the detective fairy has a sharp mind and no time for fools, as well as a fantastic ability to not be seen unless she wants to. If there's a crime that can't be solved she'll traipse the mantels of the finest detectives until they've found the solution. The five geek fairies keep the balance in the world of the nerd, channelling inspiration and knowledge in their fields. If you're doing math, or role playing, or exploring deep space, one of these little imps will be hiding nearby watching your back."
It seems that this design is a combination homage to Sherlock Holmes and Sir Arthur Conan's Doyles belief in the Cottingley Faeries. Same measurements and weight as the first three chips. These chips can be ordered from Zazzle. In addition to the five colors available for the first two designs we discussed, this chip is available in six other colors – baby blue, pink, ivory, grey purple and brown.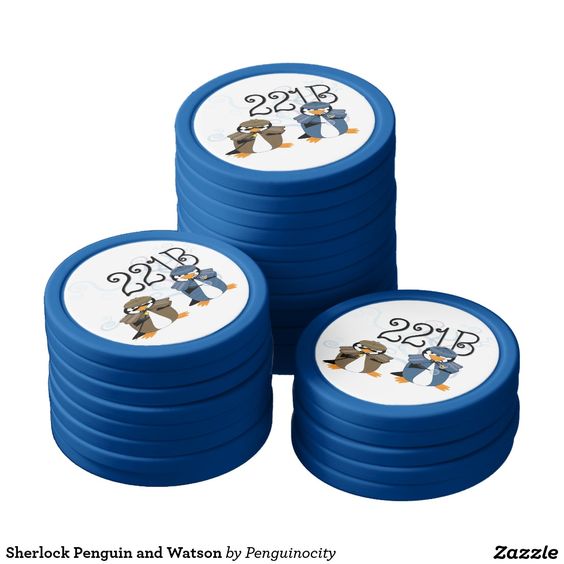 Our next chip was also offered on Zazzle, but are no longer available. These 38 millimeter blue casino chips featured Sherlock Penquin and Watson, with the phrase 221B above them. We have no additional information at this time.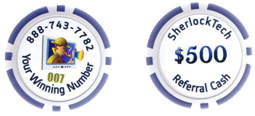 In 2010, a south Florida staffing company called SherlockTech issued a poker chip with individual winning numbers. These chips were given to people who referred others to the staffing company, for a raffle drawing with the possibility to win $500. This company also issued certificates for this promotion as well.