Royal Mint Sells Out of Individual Gold & Silver Proof Sherlock Holmes Coins
"… but we sold out …"
– The Adventure of the Devil's Foot (DEVI)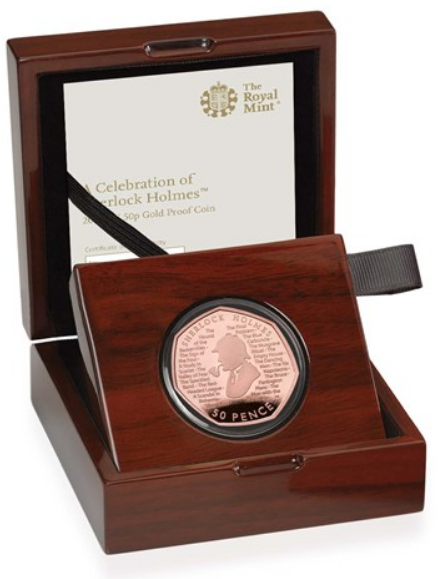 In checking the website of the British Royal Mint this morning, they are no longer selling individual specimens of the sterling silver or gold proof 2019 Sherlock Holmes 50 pence coins.
However, you can still obtain these coins in the annual sets that the Royal Mint are still selling. The sterling silver proof coin is available in the Silver Proof Coin Set, while the gold proof coin is part of the Gold Proof Commemorative Coin Set.
Individual cupro-nickel coins and the silver piedfort proof coin are still available from the Royal Mint at this time.
For those that missed out on purchasing the individual sterling silver or gold proof coins, they are available on the secondary market. We have seen the gold version being offered up with prices ranging from $1,600 to $10,000 on one major online auction site.
Good luck if you are looking to purchase and congratulations to those who added these to your collection.