3D Printed "Coin" Features Sherlock Holmes & Irene Adler
"… it was a perfect facsimile."
– The Adventure of the Empty House (EMPT)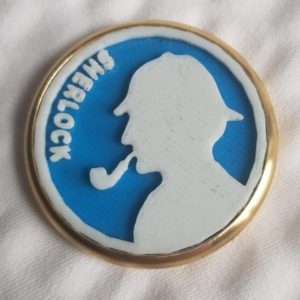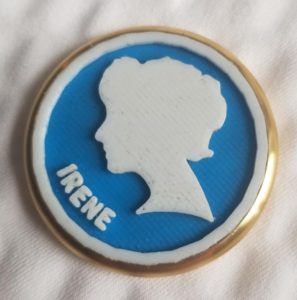 With the advent of modern 3D printers becoming affordable to individuals, we are beginning to see a few items being produced that might be of interest to our members and readers. Danna Mancini, a noted Sherlockian based in the New England area, has created a "coin" featuring silhouettes of Sherlock Holmes on one side and Irene Adler on the other side.
In conversations with Danna, these "coins" are approximately 50 millimeters in diameter and 6 millimeters thick. Beginning with a gold plated aluminum disc, which are recessed on both sides, Mancini then epoxies a two-color plastic graphic, that he created on his 3D printer, on each side.
These "coins" are available at a cost of $10 each, with a $3.75 shipping charge. Payment can be arranged through PayPal or via check. Those interested in obtaining one can contact Danna by clicking HERE.