Individual 2019 Sherlock Holmes Coins Now On Sale By British Royal Mint
"The purchase will be completed in a week"
– The Adventure of the Stockbroker's Clerk (STOC)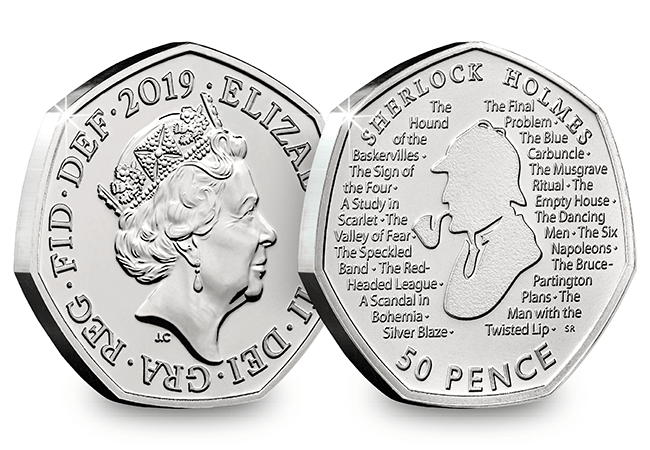 The British Royal Mint has started selling individual specimens of the 2019 Sherlock Holmes 50 pence coins earlier this morning. If you click HERE, you can order directly and skip reading the rest of this post.
There are four different coins available for purchase. The fifth coin, a proof version in cupro-nickel, cannot be purchased individually and is only available in one of the two different proof sets that are still available for purchase.
Since we have covered the technical details about these coin in an earlier post, we will not be repeating that information here.
There has been no mention by the Royal Mint about this coin being released into general circulation. At speculation on that topic in the British media is just that – speculation. UPDATE 5/13/2019 3:07 p.m.: This coin will be entered into circulation, according to the second graphic in this tweet from The Royal MInt earlier today!
What's this we spy?! ??️‍♂️ Celebrate a true giant of crime fiction with the Sherlock Holmes™ 50p. Head to our website to discover the Art of Deduction >> https://t.co/xX4TV7GBNq#SherlockHolmes #50p #Coins pic.twitter.com/3e5zXHvUOL

— The Royal Mint (@RoyalMintUK) May 13, 2019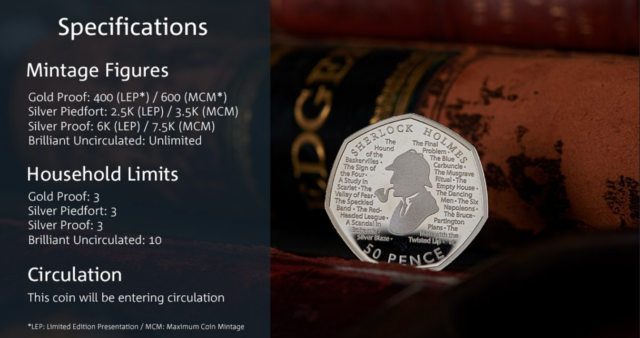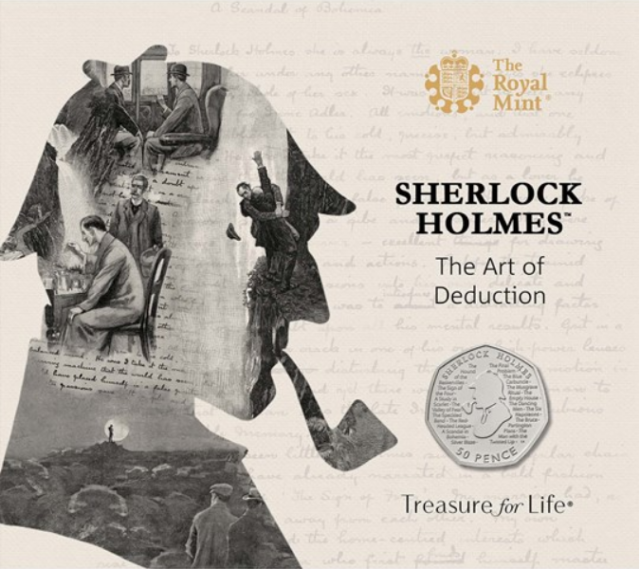 Our first option is purchasing the cupro-nickel version in brilliant uncirculated condition in a presentation folder. Cost is £10 and there is a 10 coin purchase limit per household. There is no limit on the mintage. Below we have some additional pictures of the presentation folder.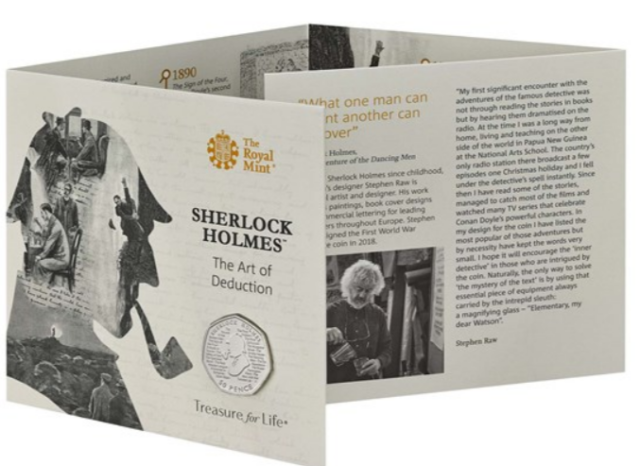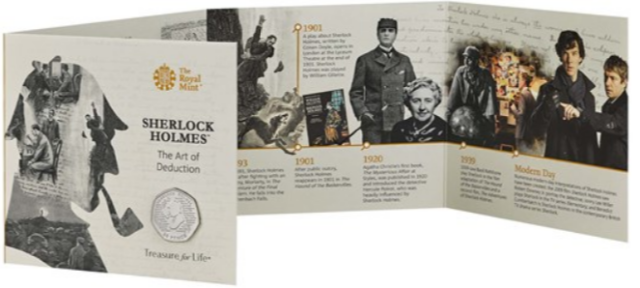 Now, let's take a look at the other three options.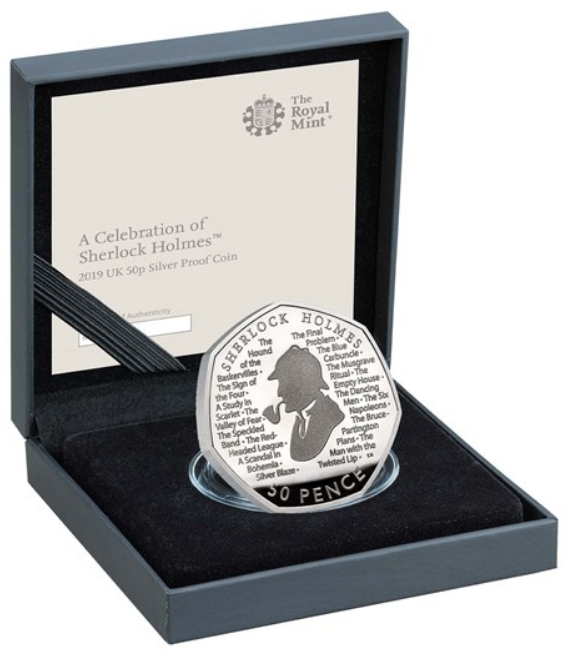 The .925 sterling silver proof version of the Sherlock Holmes 50 pence coin is limited to 6,000 examples, and as this is being written, 80% (4,800) have been reserved. Cost is £55 and there is a limit of three coins per household.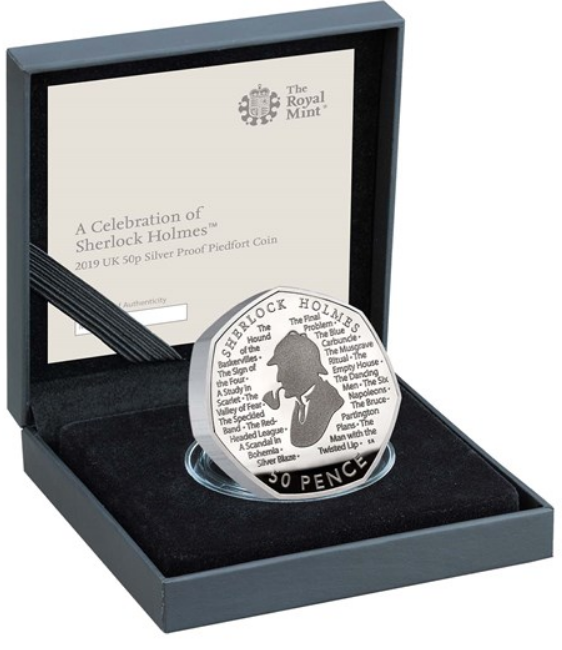 Our third option is the proof .925 sterling silver piedfort (twice as thick and heavy as the normal silver coin). Mintage is limited to 2,500 examples and is priced at £95. Once again, there is a limit of three coins purchased per household.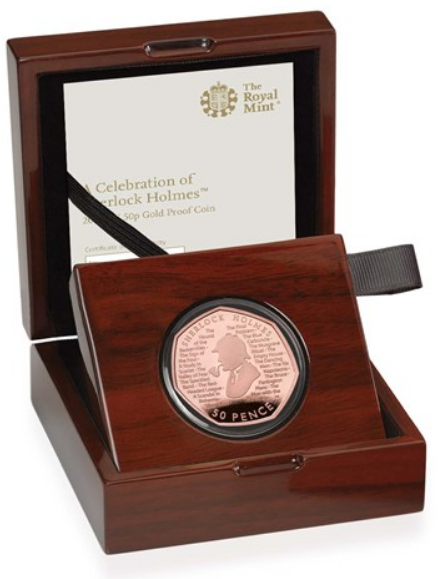 The final option is the proof .9167 gold version of the 50 pence coin. Mintage is only 400 specimens, and as this is being written, only 60 examples are still available for purchase. Cost is £795 and only 1 example can be purchased per household.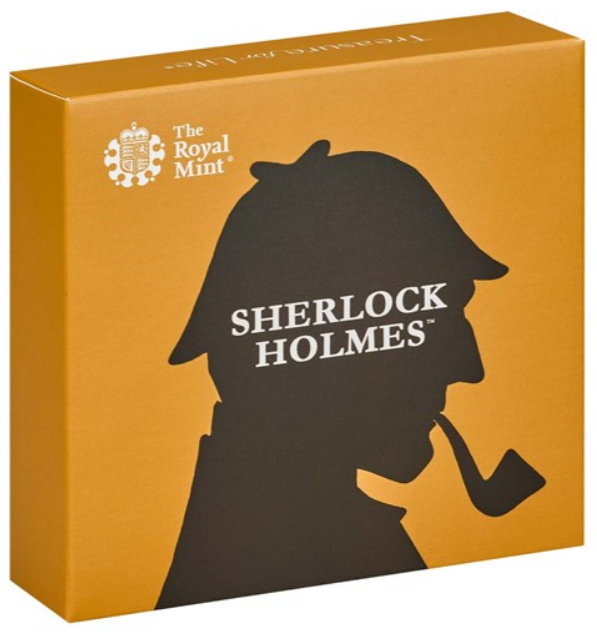 The last three options have the presentation case in a cardbox box for storage. The generic design is pictured above and below we show the side design of the box for each variety.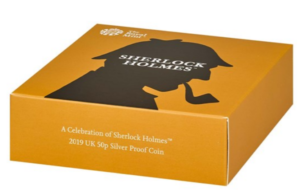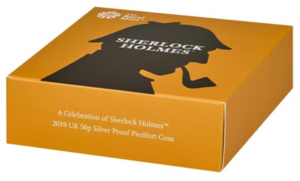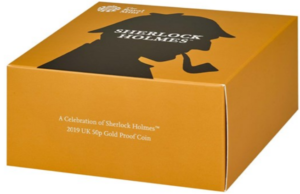 The Royal Mint is having a competition for UK Residents where you can enter, answer a trivia question correctly, you become eligible for a drawing on May 31, 2019 (Certain conditions apply). One lucky winner will receive a Silver proof 50 pence coin and a Sherlock-inspired box of artifacts from the era. Good luck!
Thanks to Glenn M. Shermersheim, the 10th Garrideb, for alerting us to the tweet from the Royal Mint.