Royal Mint To Sell Individual 2019 Sherlock Holmes Coins
"… Under a series of flaming headlines…"
– The Adventure of the Retired Colourman (RETI)

It appears that in the next several day, the British Royal Mint will be making an announcement that individual specimens of the 2019 Sherlock Holmes 50 pence coins will be available for purchase.
The British Royal Mint has prominently featured on their home page the above graphic allowing folks to sign up to "Get a first look at the world's greatest detective." You can do so by clicking HERE.
The Sun has published the following news story in today's edition, which we reprint below. We do not agree with all of the statements in the story.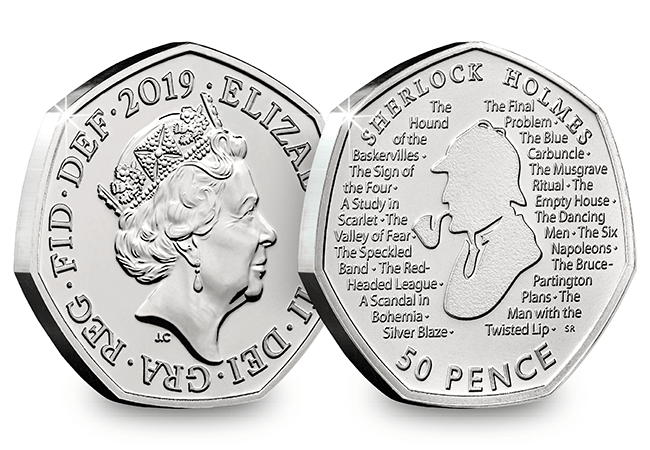 POUND OF BASKERVILLES 
New Sherlock Holmes 50p 'worth up to TEN times face value will be launched next week'
The coin is expected to launch next Monday but it's unlikely to go into circulation straight away
By Helen Knapman, Digital Deputy Consumer Editor
A NEW 50p piece with Sherlock Holmes on the front is expected to be revealed next week.
The only way to currently get the coin is if you buy the Royal Mint's annual coins 2019 set, which starts from £55 and ranges up to a whopping £5,250 for a gold proof version.
But the Royal Mint revealed earlier this year that a coin with the famous character's silhouette would eventually be released into general circulation.
And experts reckon this will be launched next Monday (May 13) and go into circulation a few months later, which means you might see it cropping up in your change soon.
It's almost impossible to know exactly how much the coin could be worth as we don't know yet how many will go into circulation – and we might not find this out until next summer.
But Colin Bellamy, founder of coin collection site CoinHunter.co.uk, says it could initially be worth five to ten times its face value on eBay, meaning you could get up to a fiver for it.
Of course, the rarer a coin is the more valuable it's likely to be, so its worth could creep up once we know the mintage.
The rarest coin in circulation, for example, the Kew Gardens 50p has sold for £90 – 180 times its value.
Just 210,000 of these went into circulation.
If you don't want to wait to see if the coin crops up in your loose change, it's thought you'll also be able to buy a commemorative version from next week.
Experts reckon the coin will be available to buy in a presentation folder for £10.
They also believe there will be 6,000 silver proof versions available at £55 each, 2,500 chunkier piedfort silver proof coins available for £95 each, and 400 gold proof coins at £795.
But you might want to go quick as CoinHunter.co.uk's Mr Bellamy thinks that if launched these will be snapped up within a few hours.
Royal Mint wouldn't confirm or deny the rumours when contacted by The Sun.
This year marks the 160th birthday of Sir Arthur Conan Doyle, author of the Sherlock Holmes detective series, who was born on May 22, 1859.
The 50p piece in the annual sets features Sherlock Holmes' iconic profile complete with his pipe and deerstalker hat, as well as titles in the series, including The Hound of the Baskervilles and The Sign of Four.
It's not yet known if this will be the coin that goes into circulation but it's likely to be.
Other coins set to launch this year include a £2 coin commemorating diarist Samuel Pepys and a £2 coin celebrating the 260th anniversary of Wedgewood pottery.
This year has already seen the launch of a £5 coin to celebrate Queen Victoria's 200th anniversary and a new £2 coin to mark 75 years since D-Day Landings.
But none of these coins have gone or are planned to go into general circulation.
The most recent 50p coins to be released into general circulation was Mrs Tittlemouse – a Beatrix Potter character – in May 2018.
This is exciting news. We would encourage collectors and Sherlockians to purchase these coins directly from the Royal Mint. Prices on the secondary market will be higher than buying directly. We anticipate strong demand in the first weeks of their release, with prices eventually leveling out in a few months, much like what occured with the coins that were broken out of the annual sets earlier this year.
We will stick to our guns and predict that this 50 pence coin will never be released into circulation. The Sun article does reference that a 2018 Beatrix Potter 50p coin was released into circulation, but it was only one design of several. There is only one design for the Sherlock Holmes coin.
As recently as last week, the Royal Mint, was still saying the Holmes coin would not be released into circulation.
Hi Cate, at present I'm not aware of any plans to release the Sherlock Holmes 50p in to circulation, however we won't know until the commemorative packs are released, I'm afraid! – Anthea

— The Royal Mint (@RoyalMintUK) May 4, 2019
The timing seems a little off to your editor as well. When the design was first announced, statements were made that the coin was honoring Sir Arthur Conan Doyle's 160th birthday.  That birthday is May 22, so I would not be surprised if the release would be later than next week.
We will keep you posted as we learn additional details.
Thanks to Peter E. Blau, the 13th Garrideb, for alerting us to The Sun's article