Conan-Doyle Ancient Coins Set For Sale (8/21/1968)
"My publishers give me a most discouraging account of its sale."
– The Adventure of the Resident Patient (RESI)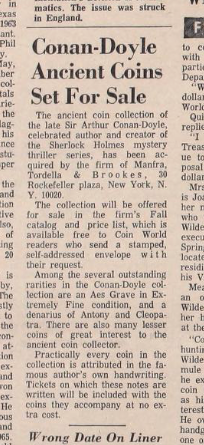 The ancient coin collection of the late Sir Arthur Conan-Doyle, celebrated author and creator of the Sherlock Holmes mystery thriller series, has been acquired by the firm of Manfra, Tordella & Brookes, 30 Rockefeller Plaza, New York, N.Y. 10020.
The collection will be offered for sale in the firm's Fall catalog and price list, which is available free to Coin World readers who send a stamped, self-addressed envelope with their request.
Among the several outstanding rarities in the Conan-Doyle collection are an Aes Grave in Extremely Fine condition, and a denarius of Antony and Cleopatra. There are also many lesser coins of great interest to the ancient coin collector.
Practically every coin in the collection is attributed in the famous author's own handwriting. Tickets on which these notes are written will be included with the coins they accompany at no extra cost.
Originally published in the August 21, 1968 edition of Coin World and reprinted here with permission of the publication.
Thanks to David L. Hill, the Francis D. Campbell Librarian of the American Numismatic Society, for his assistance in locating this article.
Read our other posts about the 1968 sale of Arthur Conan Doyle's ancient coins HERE, HERE and HERE.