Oral History interview with Marika Somogyi (1996)
"… like all great artists…"
– The Adventure of Black Peter (BLAC)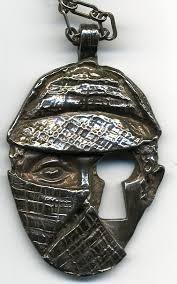 We have had many posts here previously about Marika Somogyi, the sculptor of the 1987 art medal of Sherlock Holmes.
On August 28, 1996, Somogyi sat for this video interview with the Jewish Family and Children's Services of San Francisco, the Peninsula, Marin and Sonoma Counties to discuss her memories of the Jewish Holocaust. This video is part 1 of the two part interview, part 2 has currently not been shared on the internet.
This video is part of the United States Holocaust Memorial Museum's collection and can be found online by clicking HERE. Per the group's posting, there is no restriction on the access and use of this video.
The video has no numismatic or Sherlockian content. We are sharing it here as it allows us to learn more about this sculptor who has designed some really incredible medallic works, including the Sherlock Holmes Art Medal that Numismarketing promoted back in 1987.