The Bank of Cumberland Elevener Fan Art
"But at length some sense came back to their crazed minds …"
– The Hound of The Baskervilles (HOUN)
Back in November 2015, we posted Can Anyone Lend Me A Benner? that featured fan art that was replacing Jane Austen on the (then) soon-to-be-issued ten pound note with Benedict Cumberbatch.
I say we put Cumberbatch on the £10 note. Or better still, invent a new note. The elevener. Go on, lend us a Spinal.

— Hugh Laurie (@hughlaurie) January 23, 2014
When the Bank of England announced their plans, in early 2014, to place the portrait of Jane Austen on the ten pound note, almost everybody voiced an opinion of who they would like to see on a bank note. One of those commentators was Hugh Laurie, who tweeted out his thoughts and suggested Cumberbatch be featured on a brand new denomination – 11 pounds.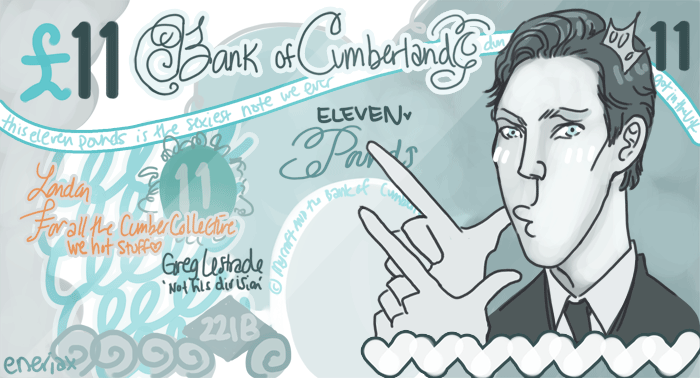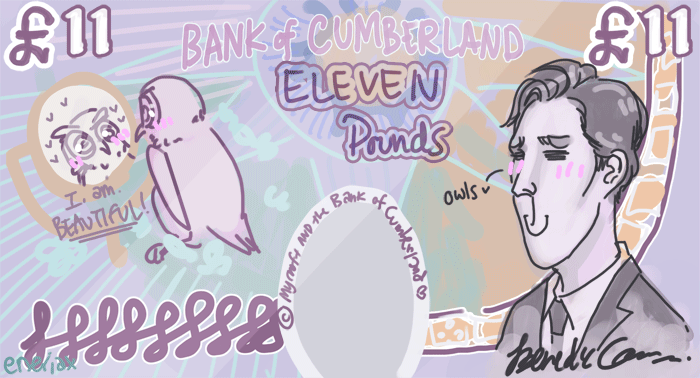 The Bank of Cumberland 11 Pound Bank Note Fan Art ~ Tumblr:enerJax
Laurie's tweet apparently inspired one creative person, a Tumblr user with the handle of enerJax to create the "elevener" for the Bank of Cumberland. Jackie describes herself as a "avid Cumberbunny." You can see her original post HERE and if you like her design work, fell free to check out her online shops: Storenvy, Society6 and RedBubble.
It should be noted that Hugh Laurie has a few Sherlockian connections of his own. Back in 2002, Laurie portrayed Holmes in an 8-part radio broadcast of the Hound of the Baskervilles for the BBC. He will be portraying Mycroft Holmes in the upcoming Holmes and Watson comedy film being released this December. From 2004-2012, Laurie was Dr. Gregory House in the Fox television series, House, M.D., a character that had more than a passing resemblance to the famous consulting detective. The series would also feature references to various characters and stories from the original Canon.