Can Anyone Lend Me An Benner?
"But at length some sense came back to their crazed minds …"
– The Hound of The Baskervilles (HOUN)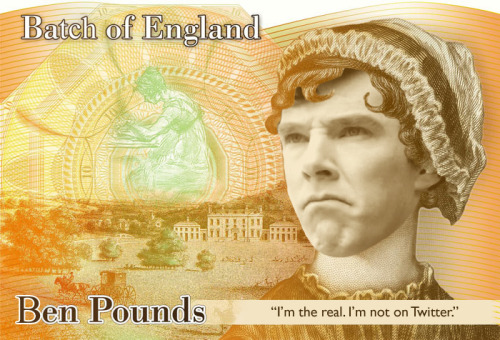 Beginning next year, the Bank of England will start releasing £5 banknotes featuring the portrait of Winston Churchill. His portrait will replace that of Elizabeth Fry, a Quaker prison reformer, who had been on the banknote since 2001. When this change was announced in April 2013, there was an outcry about her removal, as only two women (Fry and Florence Nightingale) have been featured since historical figures were first allowed on banknotes.
Campaigners had threatened to take the Bank of England to court for discrimination under the 2010 Equality Act. In July 2013, the Bank of England announced that author Jane Austen would appear on the £10 note, starting in 2017 and replacing Charles Darwin.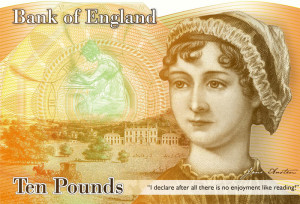 Shortly after the Jane Austen design was announced, a Tumblr user, Red Scharlach, posted the picture of her Ben Pounds note from the Batch of England. We need to remember that at around this time, hysteria surrounding Benedict Cumberbatch was extremely high. Her commentary regarding the design:
After some controversy, a new design for the Bank of England £10 note has now been chosen. Here's an EXCLUSIVE sneak peek at what we'll soon be calling the Ben Pound Note, or "Benner"! If it's a success, the government is considering switching the entire UK permanently to the Cumberquid. Can you imagine it? A British currency that the whole world will be desperate to get its sweaty hands on…