Faces of Holmes: Clive Brook
"When an actor…"
– The Man with the Twisted Lip (TWIS)
Clifford "Clive" Hardman Brook was born in London on June 1, 1887 – 17 November 1974 and would portray Sherlock Holmes in three movies.
From the Encyclopedia of Hollywood Film Actors:
Maybe because he was British, Clive Brook was one of the stars of the silent screen who made the transition to talkies with ease, becoming, among other things, Hollywood's first idea of what Sherlock Holmes would sound like. For a spell it seemed that acting wasn't even in the stars, as Brook made a living as an insurance clerk and a news reporter before finally achieving the rank of major during World War I. It wasn't until after military service that he decided to try his luck as an actor and soon was appearing on the London stage and in films. He came to the U.S. in 1924 to work for Paramount Pictures, achieving his most notable silent triumphs with Josef von Sternberg's 1927 gangster melodrama Underworld, as a broken down lawyer, and Roland V. Lee's Barbed Wire, as a German prisoner of war who falls for French girl Pola Negri. As the movies began to speak he came to represent a certain deadly earnest, stiff British reserve, hence his casting as Holmes, first in Paramount's The Return of Sherlock Holmes, which sounded like a sequel, and then, somewhat confusingly, Fox's Sherlock Holmes. His two most notable pictures of this era don't stand the test of time particularly well, There was Shanghai Express, the height of Josef von Sternberg's photographic infatuation with Marlene Dietrich, in which Brook was possibly the dreariest leading man she ever had; and 1933's Cavalcade, in which he and Diana Wynward led a British cast through three decades of history – probably the worst film to ever win the Best Picture Oscar. After 1934 he returned to Britain and continued appearing in movies for another 10 years or so, though his prime had clearly passed. He directed and starred in the 1944 comedy On Approval, as a stuck up Duke stranded on an island with Beatrice Lillie. In 1963, out of the blue, he was coaxed back once more, by John Huston, for The List of Adrian Messenger.
Popsicle, the frozen ice ice treat, issued a series of 24mm aluminum tokens featuring movie stars in the late 1920's and early 1930's. One of the stars featured was Clive Brook. Other movie stars to be featured on tokens, include: Frederic March, Johnny Weissmuller, Jean Harlow, Gary Cooper, Clark Gable, Claudette Colbert, Irene Dunne, Marie Dressler, and Marion Davies.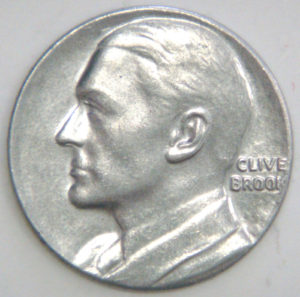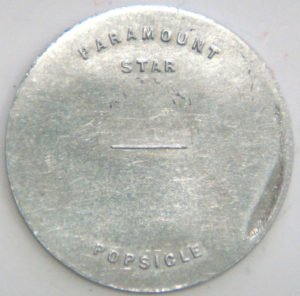 Updated 4/20/2020: We are now aware of a second token featuring this obverse but with a different reverse, pictured below: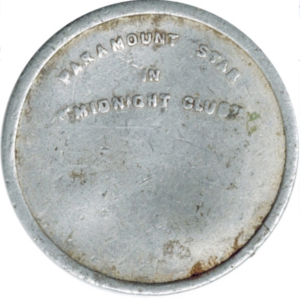 Both tokens are 25mm in diameter and made of aluminum. Our thinking is this was struck after the first token we described, as Popsicle is not mentioned. Midnight Club was released in 1933, after his three Holmes movies had already released. We've also become aware of another token featuring Brooks, totally different that you can read about HERE.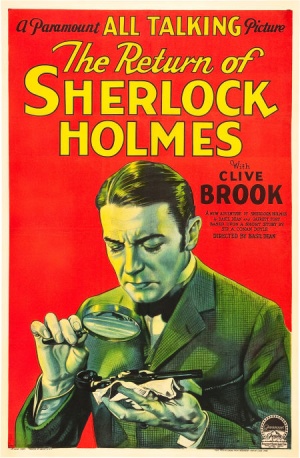 Clive Brook holds the distinction of being the first actor to portray Sherlock Holmes in a "talking" motion picture, by appearing in Paramount's 1929 film, The Return of Sherlock Holmes. In the closing scenes, Brook would make the comment of "Elementary, my dear Watson," for the first time ever and jinx all casual fans of Holmes who quote that line that NEVER appeared in the Canon.
Brook would make a cameo as Holmes in the 1930 film, Paramount on Parade. In a segment of the film called Murder Will Out, In that segment, Holmes and several other detectives would be killed by Fu Manchu. This would be the first time Holmes would die on screen.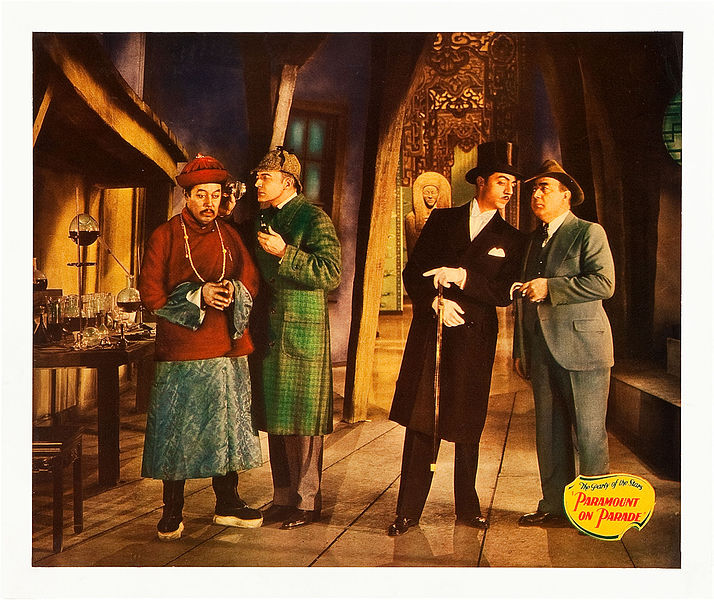 A scene from the "Murder Will Out" skit, with Warner Oland (Fu Manchu), Clive Brook (Sherlock Holmes), William Powell (Philo Vance), and Eugene Pallette (Sergeant Heath).
Brook would return in 1932 as Holmes in the Fox movie, Sherlock Holmes. This also helps date the token we discussed earlier, Since this movie was produced by Fox in 1932, and the token mentions Brook as being a star for Paramount, it is likely to presume the tokens were manufactured before this movie was released.
Be sure to check out our post on Clive Brook and his involvement with the radio broadcasts of Secrets from Scotland Yard!