"Ghana" issues 2017 Hound of the Baskervilles 2 Cedis Coin
"… after his African experiences …"
– The Adventure of the Blanched Soldier (BLAN)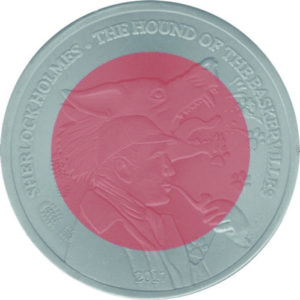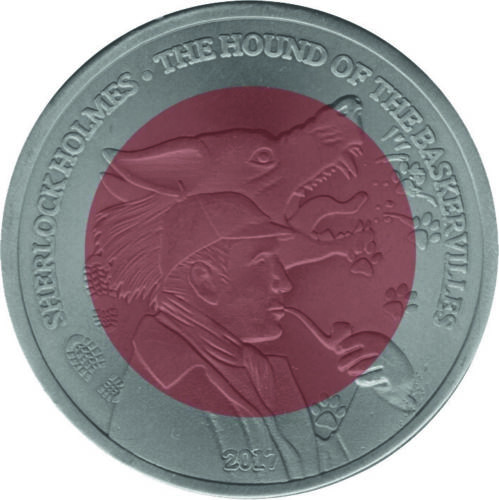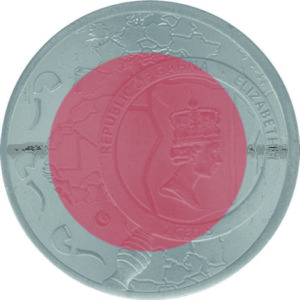 Sometime in 2017, the west African nation of Ghana contracted the German company of MCI Internationale Munzhandelsgesellschaft mbH (aka MCI Mint) to strike a 2 Cedis coin for sale to collectors. To date, it has been poorly marketed.
OBVERSE:  SHERLOCK HOLMES · THE HOUND OF THE BASKERVILLE / (right-facing bust of Sherlock Holmes, with pipe and deerstalker cap, superimposed upon a right-facing barking hound, with two footprints to the left and five pawprints to the right) / 2017
REVERSE:  REPUBLIC OF GAHNA · ELIZABETH II / 2 CEDIS (wording appears around the diameter of a magnifying glass over a right-facing bust of the Queen, over the outline of Ghana on a "globe" showing Africa and Europe. Three smoking pipes are to the left)
30mm, Silver plated Titanium, Round
MCI Mint struck 2,500 examples of these bi-colored coins, which are encapsulated with in a presentation box, and come with the all-important certificate of authenticity. The hallmark of the MCI Mint appears between the bottom pipe and the western part of the African continent, in the South Atlantic Ocean.
As mentioned earlier, marketing has been lacking to promote this coin. Limited examples can be found on online auction services and you might have better luck at the retail section of the MCI Mint's website at this time. For what it's worth, 2 Ghana Cedis have a U.S. exchange rate of 40 cents.
Oh, you might have noticed that "Ghana" is in quotes in the title of this post. Look at the coin again, paying more attention to the wording….. They misspelled the name of the country on the coin.