Stand With Me Here Upon the Terrace – Dennis E. Dorsch
"Stand with me here upon the terrace, for it may be the last quiet talk that we shall ever have."
– His Last Bow (LAST)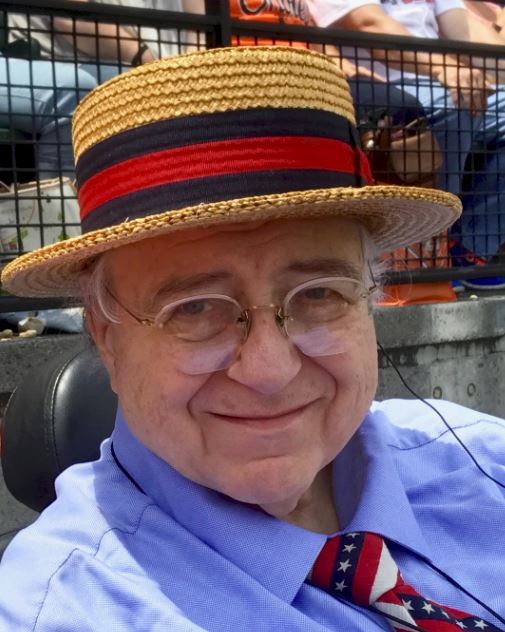 We were saddened to learn of passing of Dennis E. Dorsch, the 22nd Garrideb aka Lord Robert Walsingham de Vere St. Simon, earlier this Spring. The Baker Street Irregulars, at their annual dinner meeting, honors those members who have passed "beyond the Reichenbach" with a "Stand with Me here upon the Terrace" ceremony. The ceremony is based on a conversation between Holmes and Watson in His Last Bow.
Your editor knew Dennis from our mutual memberships in the Six Napoleons and the Sherlockians of Baltimore. Here is the tribute that was written about Dennis in the April issue of the Six Napoleons' Baker Street in Baltimore newsletter:
In Memoriam
Reverend Dennis E. Dorsch
August 2, 1944 – March 30, 2018
Reverend Dennis E. Dorsch, Napoleon CCLI, passed away on Friday, March 30, 2018. We share his obituary below:
Rev. Dennis Edward Dorsch was the only child born to Rebecca Ann Tormollan and Baldwin Edward Dorsch on August 2, 1944 in Baltimore City. He attended Poly and Catonsville High Schools as well as Western Maryland College. He completed additional education at Johns Hopkins University and the Wesley Theological Seminary. For seven years he was the Assistant to the Comptroller of the Johns Hopkins Hospital and then Comptroller of Kent & Queen Anne's Hospital until answering God's call for ordained ministry in 1971. He married Roberta Funk Dorsch on April 26, 1969 and had one daughter, Brenda, whom he loved unconditionally.
As a young man, Dennis was active in his local Boy Scout troop, was an Assistant Scoutmaster and served on Potomac Council Committees. He was always active in Christ Edmondson UMC with perfect Sunday School attendance all through school, and in 1966 worked on the Baltimore Washington Conference Annual Meeting Planning Committee for the first time. This led to him writing speeches for both Baltimore Mayor Theodore McKeldin and President Lyndon B. Johnson who were attending the conference. As a result, Dennis was privileged to quietly support many other elected officials and entertainers throughout his life.
After beginning Wesley Theological Seminary in 1971, Dennis began his 35 years of ordained ministry in the United Methodist Church at St. John's of Hamilton UMC in 1973. There he organized and coordinated a large ecumenical youth summer program with the local Roman Catholic, Presbyterian, Lutheran, and United Methodist Churches and served on the Board of Directors of the HARBEL Community Service Organization.
On June 4, 1978 Dennis began his 12-year tenure as the Pastor of Ellerslie UMC. One of his first tasks was to successfully merge two congregations and redesign both buildings for use by the new congregation. While in Ellerslie he created a Community Service Program to provide aid to those in need, he augmented the already successful Bazaar with tea and special cookies from Baltimore, held a weekly "Lunch Bunch" Bible Study, took the Youth Group on many trips to Washington, DC, Baltimore, Cedar Point, and Hershey Park and organized a summer program for kids in the community. Dennis was extremely active in the community. Some of the many organizations he was active in were the Allegany County Council of PTA's (Board of Directors), Big Brothers/Big Sisters of the Alleghenies (Founding President), Allegany County Interfaith Consortium (President), Allegany County "Just Say No" Task Force.
During his four years at First UMC in Cumberland he was the Senior Pastor for the East Cumberland Parish (8 churches), along with 3 other Pastors. Being in Allegany County for 16 years, he was able to continue his activities and many programs started outside of the local church as well. Dennis became a Lifetime Girl Scout and was very active in Shawnee Girl Scout Council, receiving the Thanks Badge for Volunteer Service. He served on the Legislative Committee for the Maryland State PTA, Maryland, Virginia, and West Virginia Girl Scout Legislative Committees, and served as a Chaplain for the National Prison Fellowship.
Moving to Accokeek in 1994 was a further catalyst for Dennis embracing work with families in need and those experiencing homelessness. Until his retirement in 2008, he and the members of Faith UMC organized a Community Food Pantry to feed 50 families per week, a Thrift Shop, and began a Food Distribution Program on the streets of Washington, DC that continues to feed about 120 persons every Sunday. He was also able to provide leadership for the building of a fellowship hall/kitchen, remodel of the sanctuary and begin a praise band.
Throughout his life Dennis felt strongly about mentoring youth and especially enjoyed working with confirmation classes. He was the ultimate tour guide for getting a deep and personal perspective of United Methodist history in Baltimore and encouraged all of us to do our "reading and writing" every day. Identifying and mentoring young people into ordained ministry was definitely one of his gifts. Since beginning his service as a pastor, Dennis mentored 44 individuals through their call to be clergy in God's Church (with a 45th still in discernment).
Since retirement and moving back to his hometown of Catonsville, he has become well known throughout the human service and advocacy communities. Dennis was a tireless advocate for justice and inclusion, recently joining Health Care for the Homeless for its Lobby Day rally on March 1 in Annapolis and participating in the March for Our Lives against gun violence in Washington, D.C. on March 24. He was, among many things, a longtime leader of S.H.A.R.P. and Baltimore United Congregations and a perennial organizer of Homeless Persons' Memorial Day in Baltimore.
Dennis was able to rekindle some of his longtime hobbies and interests as well, including stamp collecting with the Baltimore Philatelic Society, the Sherlockians of Baltimore and the Six Napoleons (Sherlock Holmes) groups. He attended many Orioles games and continued his attendance at every Opening Day since 1954. One of his most treasured activities was volunteering with Operation Welcome Home Maryland to welcome home and bless troops (over 410,000) coming home through BWI Airport.
Dennis truly lived God's word in this world to "do justice, love mercy, and walk humbly with your God". He will be greatly missed by his family, friends, and community. Funeral services were held on Tuesday, March 6, 2018. In lieu of flowers, contributions can be made to The Osher Lifelong Learning Institute at RIT or the Brighton Schools Alumni Association.
I first met Dennis back in 1979 at one of the social events of the Baltimore Coin Club, which both his father and I were members of, and was pleasantly surprised when we met again at my first Six Napoleons meeting in June 2014. I always enjoyed our conversations together and was impressed by his knowledge on a wide range of topics. At several of our most recent meetings, he gave toasts which were well received and always enjoyed taking part in the quizzes.
It sounds like Dennis had the send-off which he deserves. Funeral services can cost a lot of money and this can sometimes put the family who are organising it in a difficult situation as they have to choose between finances and a good funeral. If you are struggling to finance a funeral for a loved one, you could go here for some advice. I'd hate to think of anyone not having a proper burial and I'm very glad that the service for Dennis was a good one. He will be very much missed.
Rest in Peace, Dennis.