Alex Shagin's 1990 Portrait Medal of Sherlock Holmes
"… it was a perfect facsimile."
– The Adventure of The Empty House (EMPT)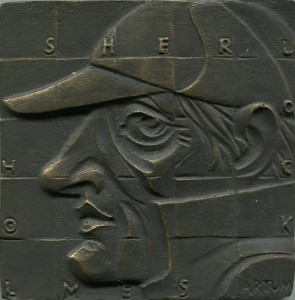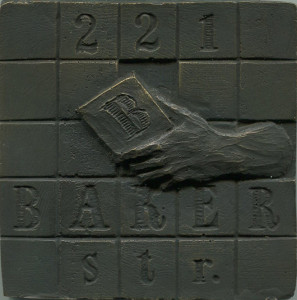 From the George S. Cuhaj (the 14th Garrideb, aka Cardinal Tosca) Collection
Alex Shagin, a former head engraver with the Leningrad Mint, was commissioned in 1990 to sculpt a medal featuring Sherlock Holmes. Cast in both silver and bronze, it was limited to 100 castings. We do not know if this 100 limit was per metal or for the overall series.
The silver medal was initially offered at $175, but would later be reduced to $150. The bronze medal sold for $75.
OBVERSE: SHERLOCK / (left facing profile of Sherlock Holmes, wearing a deerstalker cap) / HOLMES
REVERSE:  221 / B (held by a left hand) / BAKER / Str.
75 mm, Bronze, Square
and
75 mm, Silver, Square