Three ACD Collection Coins Auctioned in January 2014
"Here was a case of ancient coins."
– The Adventure of the Three Garridebs (3GAR)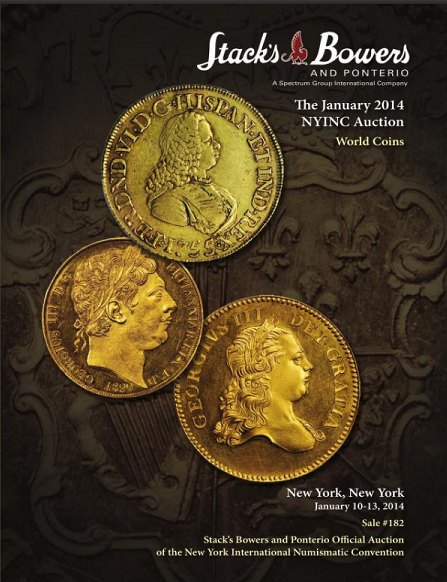 One of our group's earliest goals was to attempt to track down coins from Sir Arthur Conan Doyle's personal coin collection.
We were able to locate a price list that Manfra, Tordella & Brookes produced in 1968 of Doyle's ancient coins. Since then, there have been a few sightings of coins offered from that listing.
At Stack's Bowers and Ponterio's Official Auction at the New York International Numismatic Convention on January 10, 2014, we have lot 176:
Greek & Roman Silver & Bronze Issues. 3 pieces in lot. A grouping of Ancient coins once owned by legendary author Sir Arthur Conan-Doyle, the author of the Sherlock Holmes series. The coins include a Roman Republican Denarius from moneyer Q. Sicinius (S-410), a bronze issue of Roman Emperor Aurelian and Diobol of Heraclea. All feature excellent old cabinet toning. All pieces are in individual paper commemorative holders. SOLD AS IS / NO RETURNS. VERY FINE – EXTREMELY FINE $300-$500
The old cabinet toning may have been caused by this coin tray. The "commemorative holders" is probably referring to these "attractive folders."
In reviewing MTB's price list from 1968, we do find a listing for
REPUBLICAN DENARIUS, Q. Sicinius 49-48BC, EF, rev[erse] sl[igh]tly off planchet, nice $17.50
but we find no listing of the second or third coin that made up lot 176. This gives more credence to the assertion that we made that there was another, earlier price list of coins from Doyle's collection by MTB.
The Stack's Bowers Ponterio auction did not offer pictures of these three coins. Below are illustrations to show what the coins could possibly look like and are NOT from Doyle's collection.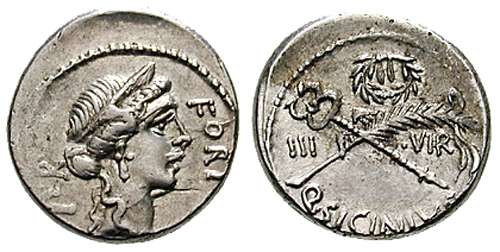 A Roman Silver Denarius from Moneyer Q. Sicinius (Sear 410)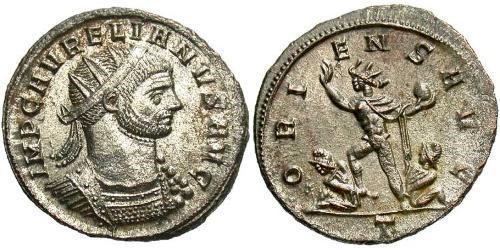 A Bronze issue of Aurelian (post reforms)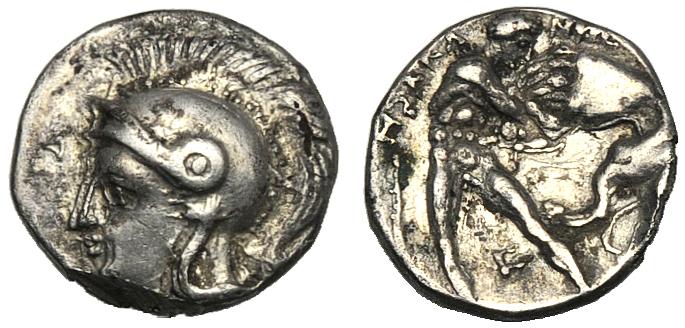 Silver Diobol of Heraclea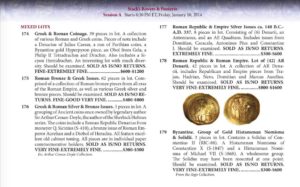 Our thanks to the Newman Numismatic Portal – where we located this auction listing.