The Watson Investigations Medal from Fiesta San Antonio 2017
"And a singularly consistent investigation you have made, my dear Watson…"
– The Disappearance of Lady Frances Carfax (LADY)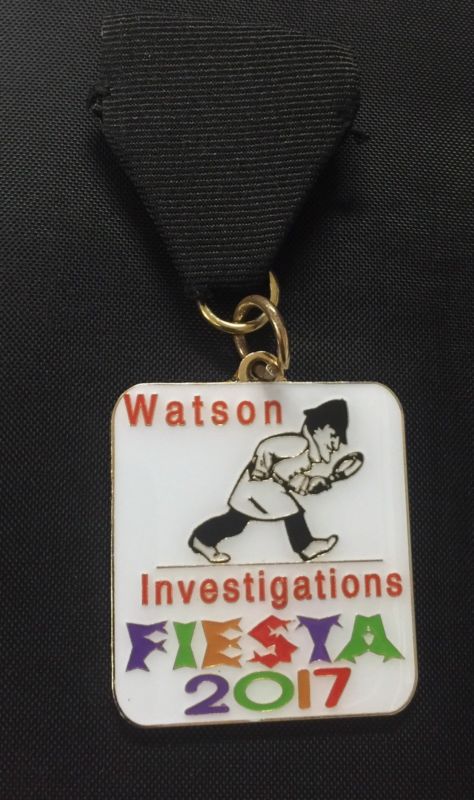 The city of San Antonio, Texas holds a annual spring festival each May that is simply called "Fiesta." First started in 1891 as a simple parade to remember the Battle of the Alamo, the event has grown to become a 10 day plus celebration made up of over 100 different events. The 2017 version was the 126th celebration.
in 1971, the practice of giving out medals at the Festival started and slowly grew over the years. In the 1990's, the production of these medals increased exponentially and have maintained their popularity to this day. KENS 5, the CBS affilate produced a report on the origin of the Fiesta Medals, which you can see HERE.
For the 2017 incarnation of Fiesta, Watson Investigations, a San Antonio based private investigation firm, had the medal pictured above manufactured. Watson Investigations was founded in 1991 by Andrew Watson.
OBVERSE: Watson  (caricature of Sherlock Holmes with deerstalker cap, walking to the right, with a magnifying glass) / Investigations / FIESTA / 2017
REVERSE: (blank, except for maker's mark of AYMdepot.com / Made in China)
Rectangular with rounded corners, 45 mm high by 41 mm wide, Closionne, Black Fabric Ribbon
Fiesta San Antonio will next be held April 19-29, 2018.