The 2016 Silver Blaze (Southern Division) 2 Guinea Banknote
"'Then he paid up his two guineas…"
– The Hound of the Baskervilles (HOUN)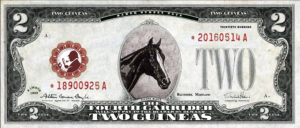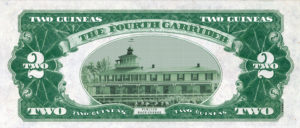 In 1952, Thomas L. Stix, Sr. started the New York Silver Blaze at the Jamaica Raceway in honor of the story of the same title by Sir Arthur Conan Doyle. The race was an annual (well, almost) race at various tracks around New York, although management of the various tracks did pose a few logistical problems over the next 50 years. In 1997, the decision was made to have the race every three years, beginning in 2000. Since that time, the race has been held at Saratoga, the country's oldest race track and a very picturesque setting.
Various "imitations" of the race would sprout up around the country (and internationally) over the years since that first race in 1952 – Chicago in 1960, Denmark in 1963 with others appearing for a few (or more) races in Toronto, St. Louis, San Francisco, Tampa, Philadelphia, Winnipeg, Dallas, Vancouver, Australia, Portland and Denver, with many more.
In 1972, the 13th Garrideb, Peter E. Blau, started the Silver Blaze (Southern Division) shortly after he relocated to the Washington, DC area. The first two races were held at Bowie Race Course (between Washington and Baltimore). The race would move to historic Pimlico Race Course in Baltimore where he would be held from 1974 through 1998. The race went on hiatus in 1998, as Blau was not willing to deal with the track's management and lousy customer service any longer.
Your webmaster restarted the Silver Blaze (Southern Division) in 2015, after securing the blessing of Mr. Blau. 2016 marked the 30th running of the race and to commemorate the occassion, the 42nd Garrideb, Denny Dobry, created the souvenir banknote featured above. Many are familiar with the fact that $2 is a common small bet in the horse racing world, so we modified a $2 red seal United States note that is pictured below.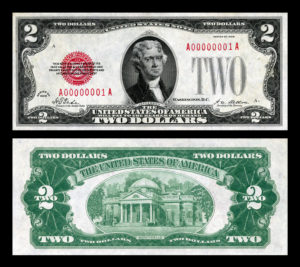 Thomas Jefferson was replaced with Silver Blaze. Sir Arthur Conan Doyle and Sherlock Holmes signatures replaced those of the U.S. Treasury officials. Our club seal replaced the seal that was being used by the Treasury Department. The mismatched serial numbers represent the dates of the 2016 race at Pimlico and the date that the Wessex Cup was ran according to the chronologists. On the back of the note, Monticello was replaced with the old Pimlico clubhouse, which was destroyed by fire in 1966. Fifty notes were made and distributed to the race attendees that day.
Today, the only other active Silver Blaze races are held in Chicago, Toronto, and Monmouth Park. This year's Silver Blaze (Southern Division) will be held on Sunday, June 25 at Laurel Park. The Maryland Jockey Club, owners of both Pimlico and Laurel, forced this race to move south to Laurel as they only had 12 days of racing at Pimlico this year.