Cox & Co. – Bankers to Dr. John H. Watson
"Your cheque-book is locked in my drawer …"
– The Adventure of The Dancing Men (DANC)

Blank Cheque of Cox & Company, circa 1880
In The Problem of Thor Bridge, we learn that Dr. John H. Watson has a travel-worn and battered tin-dispatch box in the vaults of Cox & Co. at Charing Cross. None of the 60 stories of the Canon specifically mention where Watson does his banking. If the good doctor had such faith in this bank to secure his notes on the undocumented cases of Sherlock Holmes, it stands to reason that Cox & Co. would handle his banking business.
Cox & Co. can trace its heritage back to May 1758, when Lord Ligonier appointed Richard Cox as the military agent for the prestigious Grenadier Guards. Military agents channeled pay from the government to the men of the regiments they handled and arranged for provisions and requisitions to be filled.
Over the years, Cox & Co. prospered through a series of partnerships with many of the families of London bankers and developed a reputation for outstanding service to their regiments. The firm also evolved into a specialty bank for active and retired officers of the armed forces, as well as London's elite citizens.
Cox & Co. were the agents for the 5th Northumberland Fusiliers, so when Dr. Watson was attached to the regiment in 1880, an account was opened automatically for him. His pay and allowances would be credited monthly to his account. This arrangement would continue during his attachment to the Berkshires and during his recovery at Peshawur and back in England. At the time Dr. Watson was put onto pension, his account would be converted over as an ordinary account of a customer of Cox & Co.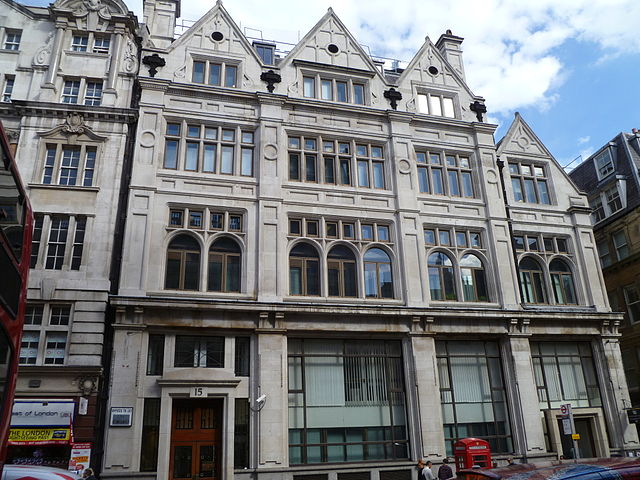 Former Headquarters of Cox & Co. at Craig's Court & Whitehall (Wikipedia – 2012)
At the time that A Study in Scarlet took place, the London headquarters for Cox & Co. were located in Craig's Court off the end of Whitehall. The offices would remain there until 1888, when they moved to new headquarters at the intersection of Trafalgar Square and Whitehall, with an address of 16-18 Charing Cross. This would tie into the chronology for the dates of The Problem of Thor Bridge.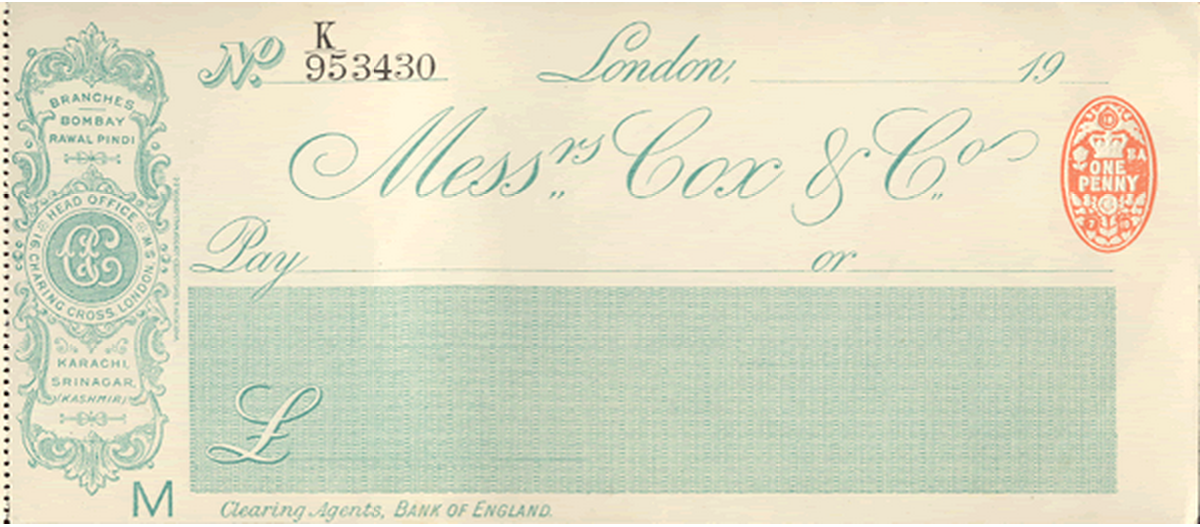 A blank cheque from Cox & Co., circa 1900
World War I would see tremendous growth for Cox & Co., with over 4,000 employees and over 50,000 cheques being cleared daily. They would move into new offices at 6 Pall Mall. Unfortunately, the end of the hostilities saw a decline in business for the firm. Despite expanding its business into Rangoon and Egypt, Cox & Co. still struggled. In October of 1922, the firm merged with Henry S. King & Co, a London-based agent to many Indian-based merchants, with a history that dated back to 1816. The merged firm was known as Cox's & King's. Unfortunately, this occurred too late to save the firm. Losing over £1 million annually, Lloyds Bank took over and absorbed Cox's & King's in February 1923, with the Bank of England giving assurances to Lloyds.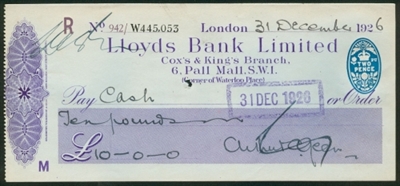 A cheque drawn on the Cox's & King's branch of Lloyds Bank, 1926
Some 90 years after Thor Bridge took place, attendees at the annual dinner of the Baker Street Irregulars in New York on January 7, 1994 were in for a shock. Attendees at these dinners are presented with a gift bag that features assorted cards, goodies and souvenirs from Sherlockians and groups from around the globe. One of those items was a genuine faux cheque from Dr. Watson, drawn on his Cox & Co. account.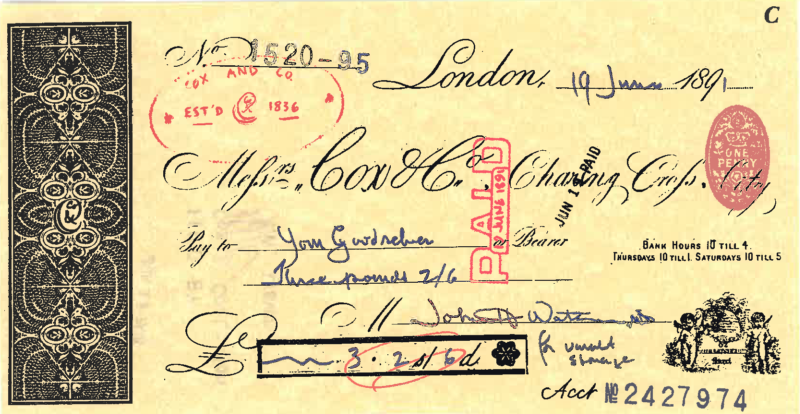 1994 BSI Dinner Souvenir from Watson's Tin Box – a genuine faux cheque from Dr. Watson
This genuine faux cheque sprang from the prolific mind of Paul G. Churchill, Gasogene II and one of the founders of Watson's Tin Box. Churchill was quite creative in recreating items mentioned in the 60 stories of the Canon and we remember Paul at each WTB meeting as we review the evidence box of items that he created as we discuss that month's story.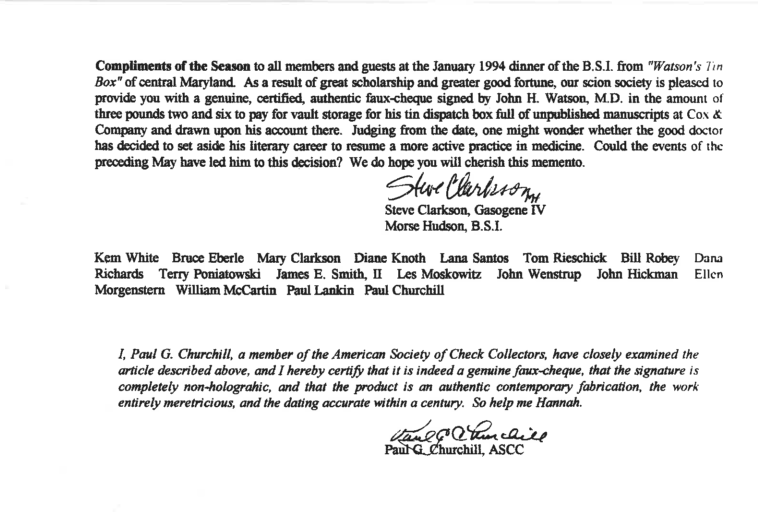 Certificate of Authenticity for the 1994 BSI Dinner Souvenir
An edited version of this article was originally published in the 2016 edition of Irene's Cabinet, edited by Beth Austin on behalf of Watson's Tin Box of Ellicott City, Maryand.