Garridebs in the News – February 2017
"Under a series of flaming headlines …"
– The Adventure of the Retired Colourman (RETI)
Last month's BSI Weekend in New York saw the release of the 5th edition of The Saturday Review of Literature. This year's version features an article on the 70 year history of the Six Napoleons of Baltimore and features the souvenir scrip that we wrote about back in September. In addition, the 31st Garrideb, Terry Hunt, contributed Christopher Morley's Foundry Club and the Baker Street Irregulars. Burt Wolder, the 47th Garrideb, penned When Almost Everyone Rode the Train (or Wanted to), a review of the recently published Mr. Morley Takes the Train. Those interested in purchasing the 2017 SRL for $5 postpaid, can contact the publishers HERE.
Artwork by Tom Richmond
In the past, we briefly mentioned Burt Wolder's involvement as one half of the duo that produces the I Hear of Sherlock Everywhere podcasts. You might remember our post when they celebrated their 100th episode. Burt, and his tag team partner, Scott Monty, have launched a new podcast called Sherlock Holmes: Trifles. Every Wednesday, they will produce a 15-minute, weekly audio program in which they discuss something related to the Canon. Having listened to the first several episodes, they are very well done and we recommend you consider subscribing to recieve the weekly updates.
Congratulations to the 19th Garrideb, Steve Mason (and his collaborators Joe Fay and Rusty Mason) on having their Baker Street Elementary cartoon being syndicated on the I Hear of Sherlock Everywhere website every other Sunday.
The 49th Garrideb, Ira Brad Matetsky, has served as the Werowance of the Wolfe Pack, the literary society for Rex Stout's Nero Wolfe, for many years. Just before joining TFG, Matetsky edited a collection of Rex Stout stories that had never been published in book form before, The Last Drive and Other Stories. The book can be purchased on Amazon by clicking HERE.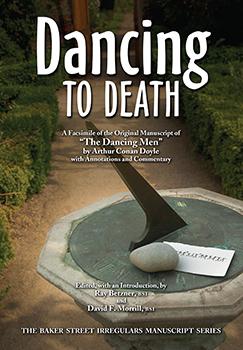 The 62nd Garrideb, Don Hobbs, contribute the chapter My Manuscript Adventure to the newest entry in the BSI Manuscript Series, Dancing to Death. Dealing with the story of The Dancing Men, the book can be ordered HERE.