The Rathbone & Bruce Personality Dollar Bills
"… for his bills were all paid in ready money …"
– The Adventure of the Five Orange Pipsi (FIVE)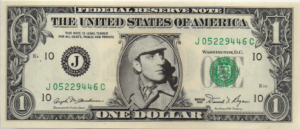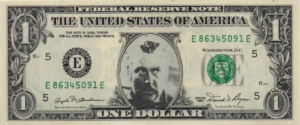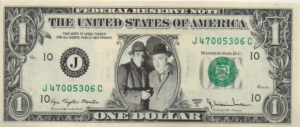 Last week, we published our Holmework Assignment for February asking for assistance with the Personality Dollar Bills of Basil Rathbone and Nigel Bruce that were issued in the 1980's and 1990's, Peter E. Blau, the 13th Garrideb, responded almost immediately to our request.
Pictured above are the three notes – Basil Rathbone, Nigel Bruce and the combination of Rathbone and Bruce. The two individual portrait notes are Series 1981 and signed by Angela M. "Bay" Buchannan and Donald T. Regan, the Treasurer of the United States and the Secretary of the Treasury, respectively. The combination portrait is on a Series 1977A note with the signatures of Treasurer Azie Taylor Morton and Secretary G. William Miller. These dates tie in nicely with the 1984 issuance by the Bailey Studio that was referred to in DeWaal.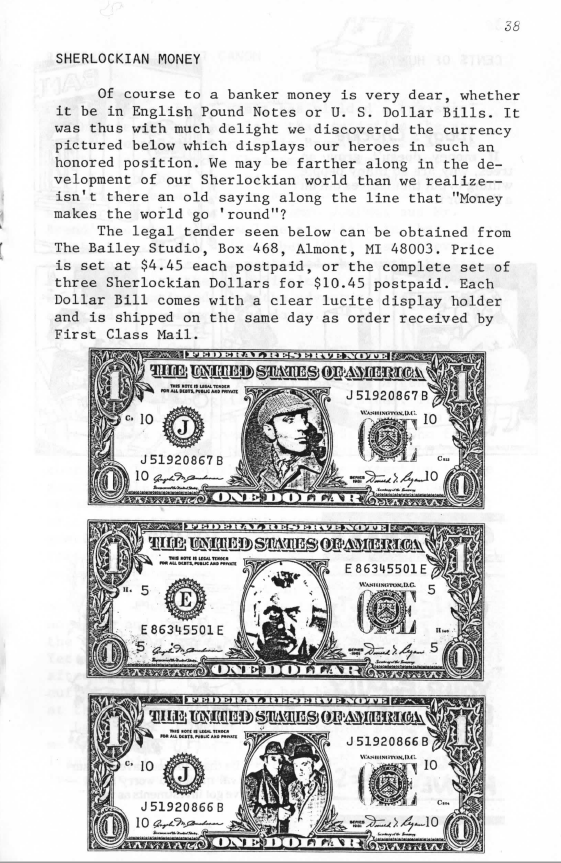 Blau was also kind enough to share a scan of the August 1984 issue of The Quarter£y $tatement that featured the set of three notes. All three notes are Series 1981.
As we mentioned in the original HolmeWork assignment, we would be interested in learning of these notes with other series dates.