Kareem Abdul-Jabbar Awarded Medal of Freedom
"… one of the most honoured."
– The Adventure of The Dancing Men (DANC)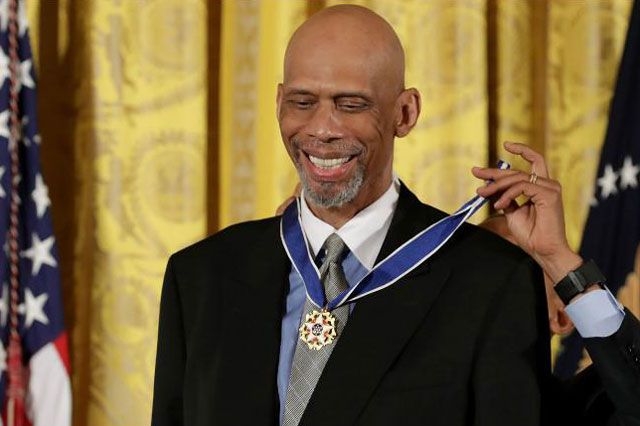 At a White House ceremony yesterday, President Barack Obama honored retired NBA basketball player and author Kareem Abdul-Jabbar, and 20 others, with the Presidential Medal of Freedom, our nation's highest civilian award from the United States government.
"The Presidential Medal of Freedom is not just our nation's highest civilian honor — it's a tribute to the idea that all of us, no matter where we come from, have the opportunity to change this country for the better," President Obama said in a statement on Nov. 16. "From scientists, philanthropists, and public servants to activists, athletes and artists, these 21 individuals have helped push America forward, inspiring millions of people around the world along the way."
"Physically, intellectually, spiritually, Kareem is one of a kind," President Obama said at a ceremony honoring the recipients. "An American who illuminates both our most basic freedoms and our highest aspirations."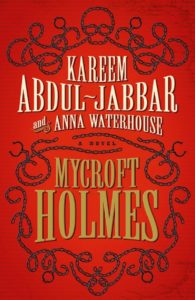 Abdul-Jabbar is known within Sherlockian circles for being the author (with Anna Waterhouse) of the pastiche Mycroft Holmes, which earned him an invitation to attend the 2015 BSI Dinner. The story tells of the early career of Sherlock Holmes's older brother. Mycroft is 23 years old in this story. When the book was released in September 2015, the podcast I Hear of Sherlock Everywhere conducted an interview with Abdul-Jabbar, that you can listen to HERE.
The Presidential Medal of Freedom badge is in the form of a golden star with white enamel, with a red enamel pentagon behind it; the central disc bears thirteen gold stars on a blue enamel background within a golden ring. Golden American bald eagles with spread wings stand between the points of the star. It is worn around the neck on a blue ribbon with white edge stripes.
The medal may also be worn in miniature form on a ribbon on the left chest, with a silver American bald eagle with spread wings on the ribbon. In addition, the medal is accompanied by a service ribbon for wear on military service uniform, a miniature medal pendant for wear on mess dress or civilian formal wear, and a lapel badge for wear on civilian clothes (all shown in the accompanying photograph of the full presentation set).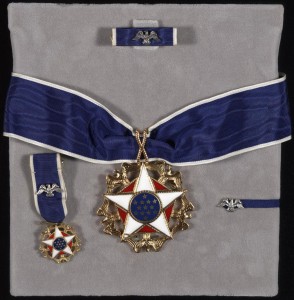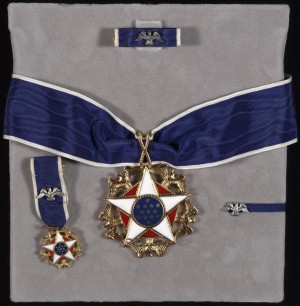 The Presidential Medal of Freedom was created by Executive Order of President John F. Kennedy in 1963 and was the first U.S. civilian neck decoration.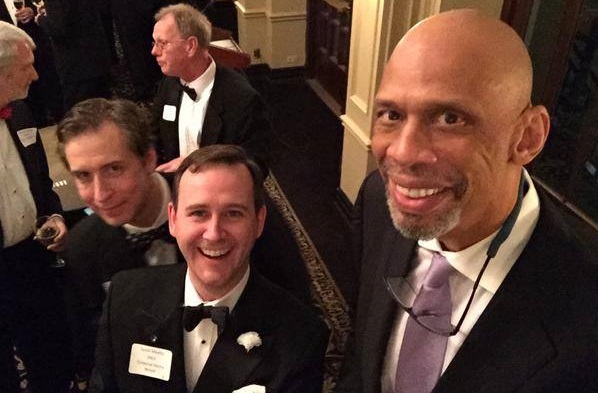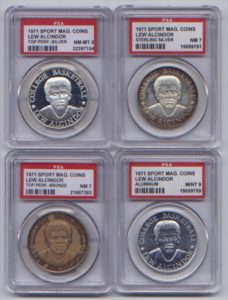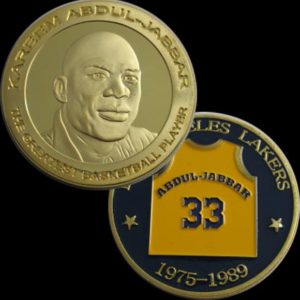 Abdul-Jabbar has been featured on several medals during his illustrious NBA career. Sport Magazine featured him on four different alloy medals in 1971 when he was with the Milwaukee Bucks (he was then known as Lew Alcindor). After he retired from the Los Angeles Lakers, they issued a series of medals honoring the jersey numbers they had retired, so his number 33 is featured as well.