They Might Be Giants Instant Fan Club Tokens
"… he must certainly have been a giant."
– The Adventure of Wisteria Lodge (WIST)
George C. Scott & Joanne Woodward in a scene from They Might Be Giants – Universal Films 1971
Most Sherlockians probably think about the 1971 film when they hear of They Might Be Giants. George C. Scott stars as the widowed judge Justin Mayfair, who starts fantasizing that he is Sherlock Holmes. Mayfair's brother tries to have the Judge institutionalized and this attracts the attention of a psychiatrist, Dr. Mildred Watson, played by Joanne Woodward. Mayfair begins to also belief that she is "the" Dr. Watson. You can read the New York Times June 10, 1971 review of the movie HERE.
Now, when your editor hears of They Might Be Giants he immediately thinks of the alternative rock music group of the same name.
Istanbul (Not Constantinople) by They Might Be Giants, from the 1990 Elektra Records album Flood
The music group was formed in 1982 by John Flansburgh and John Linnell and adopted the movie title as their name shortly thereafter. You can find out more about TMBG on their Wikipedia page, or at their website.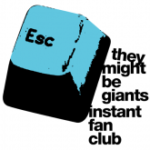 In April 2011, they announced on their website, the start of their Instant Fan Club, which allows for special music downloads and other swag. Limited to 1,000 members, all memberships were sold within 24 hours of the announcement.
The 2012 Instant Fan Club was opened with two levels of membership, regular ($95) and Super-President ($250), and was available until late April. Around 700 people signed up for the Super-President option, which among their swag included a 2 inch nickel colored token.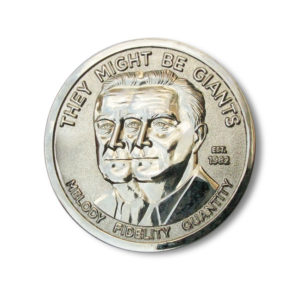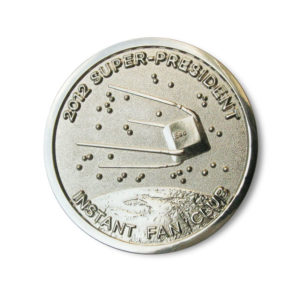 The 2012 TMBG token features dual portraits of President Franklin Delano Roosevelt, sharing a third eye between them and the band's motto of Melody, Fidelity and Quantity. The reverse has the escape key portion of the IFC's logo modified to look like a satellite in space.
TMBG released the following video to promote the Super-President of option of their Instant Fan Club and featured the "coin" prominently. From the video, we learn that the "coin" was designed by New York based graphic artist Paul Sahre and were struck by the Instant Mint.
TMBG would next announce the Instant Fan Club again in November 2014. By early December, 2,500 memberships had been purchased. As with the 2012 membership, the 2015 Super-President option included another "coin."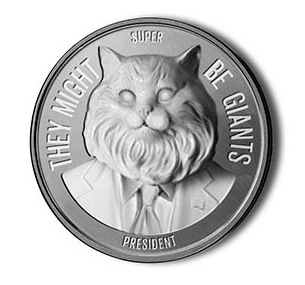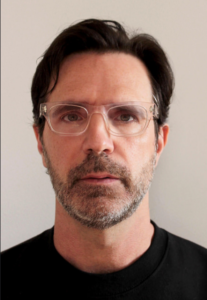 2016 TMBG IFC Super-President Coin – Graphic Artist Paul Sahre
The 2016 Super-President token features a cat wearing a suit and tie on the obverse. We have not seen a picture of the reverse.  If you happen to have one of these tokens, we would be interested in getting a picture of the back of the token.
We don't know the next time that TMBG will open the next round of memberships for their Instant Fan Club, but when it happens it will be announced on their website.