U.S. Army Criminal Investigation Laboratory Challenge Coin
"He is sure to be at the laboratory …"
– A Study in Scarlet (STUD)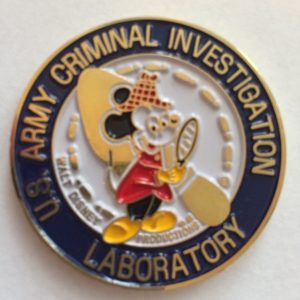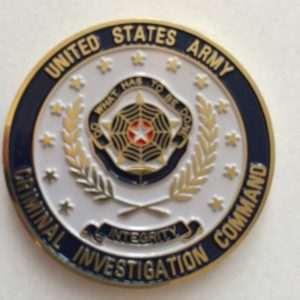 It is ironic that after spending a week in Anaheim, California and across the street from DisneyLand, that we learn of a challenge coin featuring Mickey Mouse with a deerstalker cap and magnifying glass.
The United States Army Criminal Investigation Laboratory, or USACIL, traces its history back to 1943, in the midst of World War II in Europe. The United States Army Criminal Investigation Command, or CID, was created in 1971 and oversees the operations of the Criminal Investigation Laboratory.
In addition to the original lab in Europe, additional laboratories were established in the Philippines (later moved to Tokyo) and Fort Sam Houston in Texas. A laboratory was also established in Long Binh, during the Vietnam War. The Fort Sam Houston operation was moved to Fort Gordon, Georgia in 1948 and then to nearby Fort Gillem, Georgia in 1983 where it has remained since. During the 1990s, the labs in Europe and Tokyo were closed, and all operations were consolidated in Fort Gillem. A full history of the USACIL can be found HERE.
During World War II, Disney studio animators drew up more than 1,200 humorous insignia for various units of the U.S. military. Many of these designs featured Disney characters quite prominently.
OBVERSE: U.S. ARMY CRIMINAL INVESTIGATION / (image of Mickey Mouse with deerstalker and magnifying glass, superimposed a large footprint, within a circle of footprints) / LABORATORY
REVERSE: UNITED STATES ARMY (seal of the U.S. Army CID) / CRIMINAL INVESTIGATION COMMAND
45mm, Round, Enamel, Blue background color