The 2007 Cook Islands Hound of the Baskervilles Coin
"Mr. Holmes, they were the footprints of a gigantic hound!"
– The Hound of the Baskervilles (HOUN)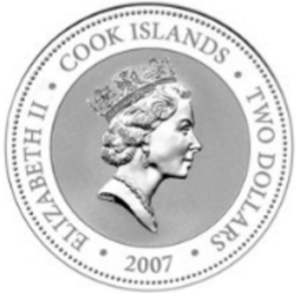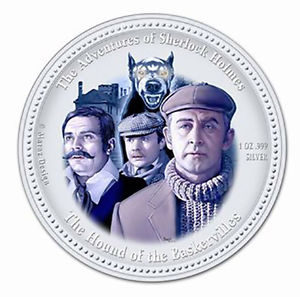 In 2007, the Cook Islands contracted with the Perth Mint of Australia to produce a set of four 1 ounce .999 silver $2 coins.  All four coins featured color vignettes from the 1979 – 1986 Soviet television productions of The Adventures of Sherlock Holmes and Dr. Watson. 
In this series, Vasily Livanov starred as Sherlock Holmes and Vitaly Solomin as Dr. Watson. The two episodes of the third season (1981) were titled The Hound of the Baskervilles and was based on Doyle's original story of the same name. Sir Henry Baskerville was portrayed by Nikita Mikhalkov
OBVERSE: ELIZABETH II • COOK ISLANDS • TWO DOLLARS / (bust of Queen Elizabeth II, facing right) / • 2007 •
REVERSE: THE ADVENTURES OF SHERLOCK HOLMES / 1 OZ. / (color vignette of, clockwise from top, the Hound, Sherlock Holmes, Sir Henry Baskerville and Dr. Watson in the center. The Baskerville Hall is in the background.) / .999 / SILVER / THE HOUND OF THE BASKERVILLES.
Round, 40.7mm, .999 Silver, mintage of 8,000