Heritage To Auction A Syracusan Decadrachm At CICF
"Syracusan – of the best period …"
– The Adventure of The Three Garridebs (3GAR)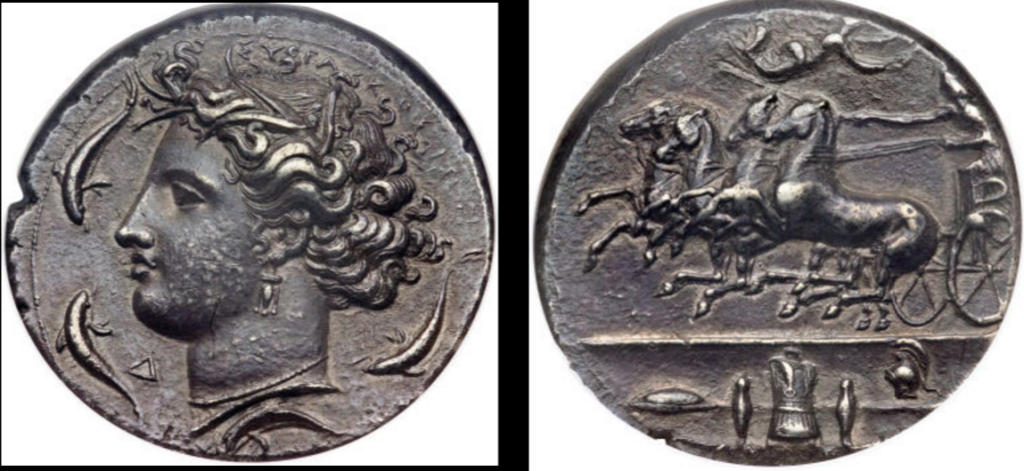 Heritage Auction's April 14 – 19, 2016 CICF World Coins Signature Auction – Chicago #3046 – Lot TBD – HA.com
Every member of The Fourth Garrideb receives a Garrideb Decadrachm with their lifetime membership certificate, an homage to the Baker Street Irregulars and their shillings. Heritage Auctions will be auctioning another example at CICF, so there is a chance to acquire a real Syracusan decadrachm that could be the very one that Nathan Garrideb was polishing when Holmes and Watson visited him in The Three Garridebs (see our earlier post).
The Chicago International Coin Fair (CICF) will be taking place at the Donald E. Stephens Convention Center in the Chicago suburb of Rosemont during April 14 – 17, 2016.. Heritage Auctions will be conducting it's World Coins Signature Auction in conjunction with the CICF on April 14 – 19. Below is Heritage's preview description* of this coin.
Magnificent Euianetos Decadrachm
SICILY. Syracuse. Time of Dionysius I (405-367 BC). AR decadrachm (36mm, 42.80 gm, 7h). Reverse die signed by Euainetos, ca. 400 BC. Racing quadriga driven left by charioteer, holding reins and kentron; in field above, Nike flying right to crown him; in exergue, military arms, including aspis (shield), greaves, cuirass, and crested Attic helmet, all joined by horizontal spear, ΑΘΛΑ ("prizes") below / ΣΥ−ΡΑ−ΚΟΣ−ΙΩΝ, head of Arethusa left, hair wreathed in barley ears, wearing triple pendant earring and beaded necklace, four dolphins around, Δ below chin, die-engraver's signature [EY– AI]NE below bottom dolphin. Gallatin 37 (DII – RIX). SNG Lloyd 1413 (same dies). HGC 2, 1299. A simply beautiful example of this classic issue, struck on a broad flan in sound metal, with none of the usual obverse die rust. A couple of unobtrusive light scratches, otherwise appealing original  surfaces with "find patina" largely intact. NGC AU 5/5 – 4/5, Fine Style.
Originally from the collection of a French connoisseur, later acquired by an American collector and displayed at the E. H. Merrin Gallery in New York City in 1985.
Under the brutal but capable Tyrant Dionysius I (406-367 BC), Syracuse had become the wealthiest and most powerful city-state in the Greek world, and chose this moment to introduce the most extravagant coins yet seen —  the stunning series of signed silver decadrachms. These huge, impressive coins were struck  to pay the Greek mercenaries who flooded Sicily to fight the expanding power of Carthage. The magnificent decadrachms of the master engraver Euainetos have become a paradigm for classical beauty in the 24 centuries since their creation. His Arethusa is the very ideal of feminine beauty, both human and divine, her hair interwoven with a wreath of grain ears symbolizing the agricultural bounty of Sicily. Likewise, the horses pulling his chariot seem to levitate above the ground line, perhaps preparing to draw the charioteer into the heavens themselves. 
* Heritage Auction Preview: Preview items may not have yet been properly described or vetted, and items are posted on the Heritage website as soon as they have a description or a picture. Heritage continues to add and correct information as they approach the auction posting date, so check their website for updated information.