Numismatic Friends of Sherlock Holmes Dinner In Dallas A Success!
"… had partaken of an excellent dinner."
– The Valley of Fear (VALL)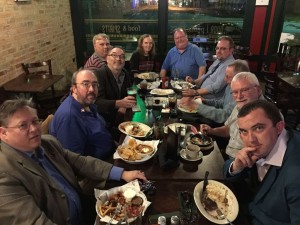 A combination of ten Sherlockians and numismatists turned out for the Numismatic Friends of Sherlock Holmes Dinner held March 3, 2016 at the Green Door Public House in Dallas, Texas. TFG was in Dallas as part of the American Numismatic Association's National Money Show.  Good food, good cheer and good times were enjoyed by the attendees.
Our thanks to the members of the Dallas scion, The Crew of the Barque Lone Star, for coming out in force to join us that night.
One hundred souvenir wooden nickels was issued to commemorate the dinner and given out at the National Money Show.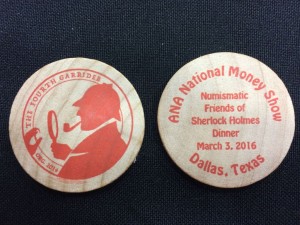 OBVERSE: (Logo of The Fourth Garrideb)
REVERSE: ANA National Money Show / Numismatic / Friends of / Sherlock Holmes / Dinner / March 3, 2016 / Dallas, Texas
38mm, Wood (printed in red ink), Round