John Doubleday – Sculptor and Artist
"… If I were a sculptor …"
– The Problem of Thor Bridge (THOR)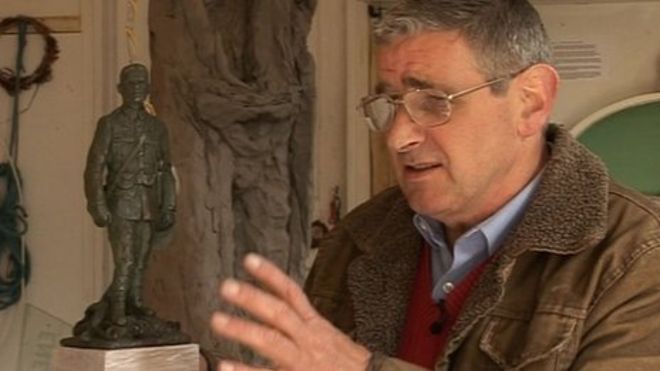 In our recent post about the badges issued by the Sherlock Holmes Society of London, we mentioned that they were based on designs by noted sculptor, and SHSL member, John Doubleday, but did not offer up any other information about this artist.
Mr. Doubleday's biography, as it appears on his own website:
John Doubleday was born in 1947 and studied sculpture at Goldsmiths College. Since his first show at the Waterhouse gallery in London in 1968 he has enjoyed more than 30 one man exhibitions in Britain, America and the Continent.
John Doubleday's work can be divided into two distinct categories: commissioned work and the paintings and sculpture produced for exhibition. Of the two categories it is the exhibition work which is the obviously more personal. Marina Vaisey of the Sunday Times wrote: "His isolated figures have a logic of their own, which we as spectators can readily accept. By making his world he enhances our own… Though the objects are made of physical elements of the human figure, often distorted, his work also appeals on a sensual plane, and to the irrational quality of our submerged dreams."
His enthusiasm is touching and the fertility of his object making is disarming. The various aspects of the direct and indirect appeal of his work, physical, emotional and intelligent make what he has accomplished of lasting value. Unafraid to experiment, John illustrates an interest of the figure with the landscape. Sometimes one is able to see ghost like figures walking through the landscape, suggesting both are inextricably linked.
John lives and works in Great Totham in Essex. His interests include raising Essex Saddleback pigs.
Doubleday has done a number of Sherlockian sculptures and plaques.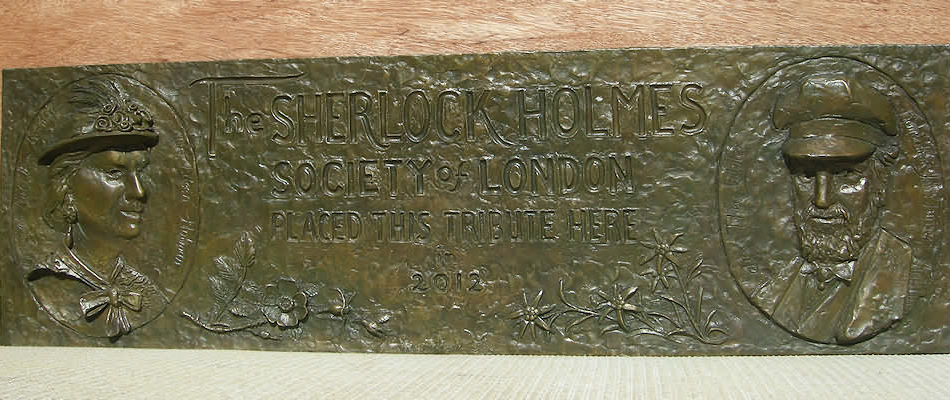 During the SHSL's 2012 pilgrimage to Meiringen, they donated a bench as a memorial to two local tourism officials that had helped with the group's prior visits. Doubleday designed this bronze plaque, honoring Eileen Holman and Theo Wyler, which is placed behind the memorial bench. This particular bench is made out of teak, as teak memorial benches can stand the test of time. The bench was dedicated during the Pilgrimage in September 2012. For more information about the bench, click HERE.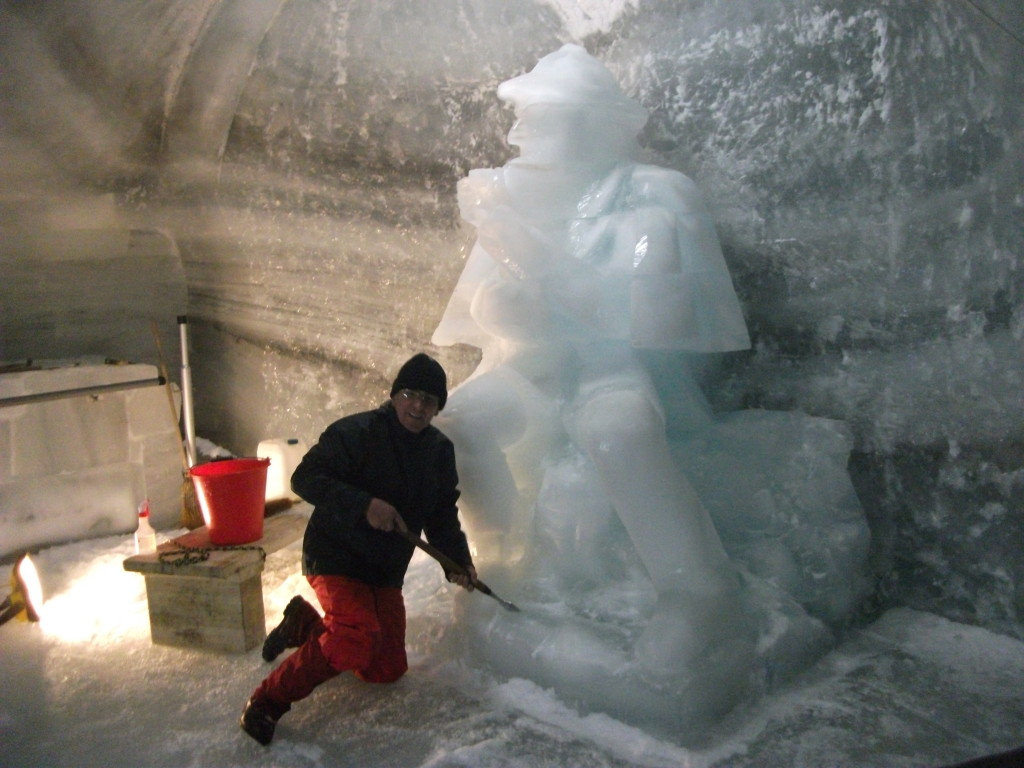 Doubleday, during that same 2012 SHSL pilgrimage, created a huge ice sculpture of Holmes at the Ice Palace of Jungfraujoch.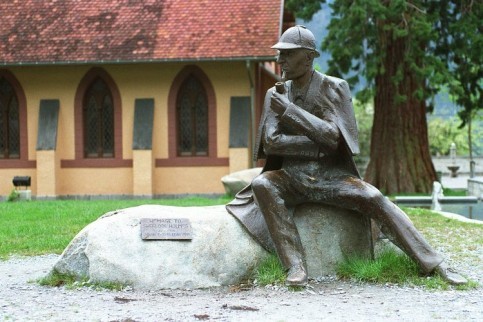 The statue of a sitting Sherlock Holmes, outside the Sherlock Holmes Museum in Meiringen, was sculpted by Doubleday in time for the 1991 opening of the museum. We know of one collector who has a custom designed debit card featuring a photo of this statue.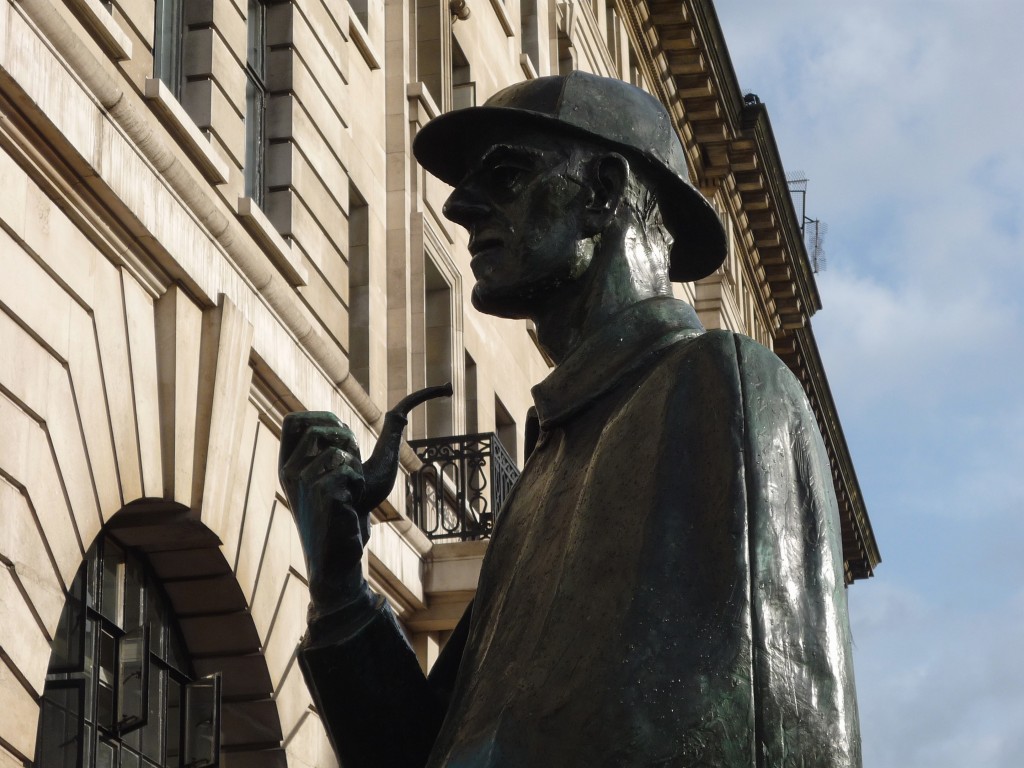 Photo: WikiMedia
The 1999 statue of Sherlock Holmes outside of the Baker Street Station on Marylebone Road is probably Doubleday's most well-known sculpture. It is featured on two badges issued by the SHSL – 1999 and 2005.