A Sherlock Holmes Love Token?
"Others again spoke of some early love affair …"
– A Study In Scarlet (STUD)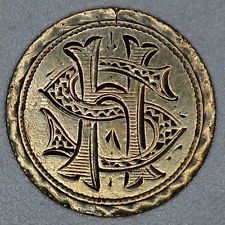 With today being Valentine's Day, we share this love token featuring Sherlock Holmes initials (for those who think the initials on this token are actually H S, you're welcome to write your own post). This silver British sixpence had the reverse smoothed flat and then Sherlock Holmes hand engraved his initials on it. He later presented it to Irene Adler….
Love tokens are coins that were engraved sometime after they were struck. Generally, an jeweler or engraver removed the words and images from the reverse, or sometimes from both the obverse and the reverse of a coin. These artists ranged in skills from a high-quality craftsperson to a "do-it-yourselfer" then engraved or punched pictures, initials, and messages on the cleared area.
Other times, the coin was left intact and the artisan engraved initials, dates, or pictures on the edges around the images of liberty or royalty. The coins became lucky charms, objects of art, and pieces of jewelry. The messages on the coins could be used as spiritual reminders, family documentation, or sentimental sweet nothings.
It is believed that the love token originated in Great Britain as early as the 13th century with the practice of bending coins. When dealing with your favorite saint, in return for a favor, a coin was bent and a pledge was made. The bent coin, "a token of your pledge," became a physical reminder of your obligation.
Because love tokens are hand-engraved, they are unique. The birth of a baby, the initial of your intended, a soldier leaving a memory of himself with his loved ones, or a prisoner getting sent off to do his time; all have been remembered on the surface of a coin. Love tokens tell stories that begin with the words, images, and initials engraved on the coins and are completed only by the limits of our own imaginations.
Other methods of making coins into tokens included cutting coins and "pinpunching" (a stippled technique that employed a hammer and point). Free-hand engraving may date as early as the 1500s in Great Britain and the 1800s in America.
It is difficult to place an exact date on a love token. How do you distinguish the date the art work was engraved on the coin? The age of the token is not necessarily the year the coin was manufactured, which is sometimes still on the coin. Nor is it necessarily the date engraved on the coin, which might be a significant date to the engraver and not the date the engraver re-carved the coin. It is a good thing that most collectors of love tokens are more interested in the quality of the carving and the sentiment of the words than the date or monetary value of the coin.
For more information on love tokens, check out the Love Token Society.