Precious Jewels and Stones on Coins
" It's the precious stone."
– The Adventure of The Blue Carbuncle (BLUE)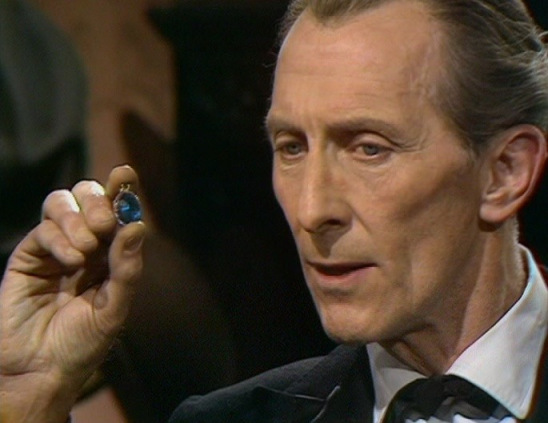 The Countess of Morcar's blue carbuncle was the stolen gemstone that was the central element in The Adventure of The Blue Carbuncle. Recent technological advances in the minting process have allowed color and other design elements to be added to coinage the last several years. Let's take a look at a few of these coins.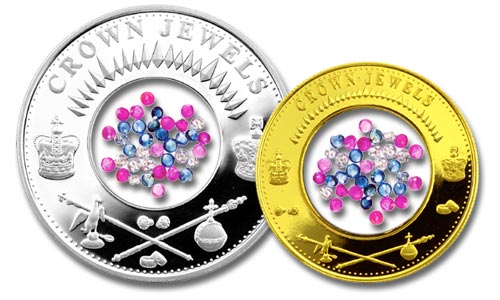 In 2002, the Cook Islands struck 5,000 $100 coins with three-quarters of an ounce of gold and 50,000 silver $1 coins. Small jewels were inserted to the center of the coin to make an effect like that of a kaleidoscope – a minimum of 2 carats of rubies, sapphires and diamonds were encapsulated in each gold coin, and at least 1 ½ carats of rubies, sapphires and cubic zirconia float within each silver coin.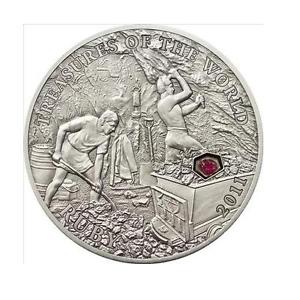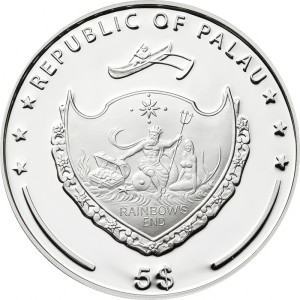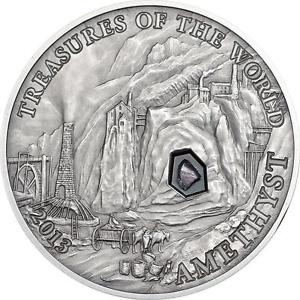 The south Pacific Republic of Palau has been issuing a series of $5 silver coins in its Treasures of the World series The 2011 design has fragments of a real ruby embedded into the planchet and the 2013 design features an amethyst into the coin.  Other coins in this series feature emeralds (2009), sapphire (2010), and a topaz (2012).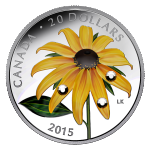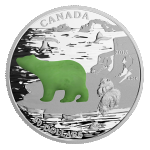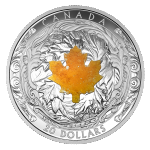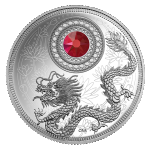 Canada has been inserting stones into their coins the last couple of years. The 2015 Black-Eyed Susan $20 has 3 crystals inserted into it, while the 2015 Polar Bear $20 coin has jade inserted for the white polar bear. The soon to be released 2016 Majestic Maple Leafs $20 silver bullion coin has a maple leaf made of Druzy Stone. In addition, the Royal Canadian Mint is striking a different $5 silver coin each month in 2016 that will feature the associated birthstone of that month. The January birthstone of a garnet is shown in the last picture above.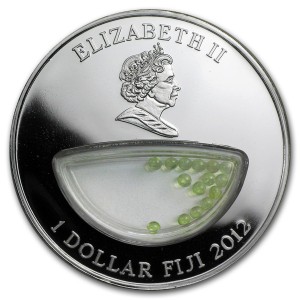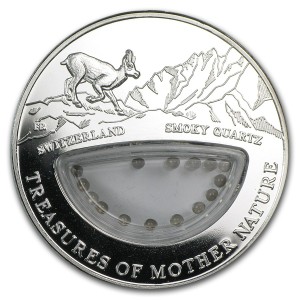 In  2012, Fiji issued nine $1 coins as part of their Treasures of Mother Nature series.  We have the coins for peridot and smoky quartz pictured above. Other treasures of Mother Nature in the series were topaz, platinum, amethysts, gold, pink pearl, rhodium and white pearl.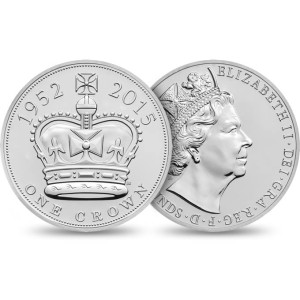 The British Royal Mint struck the above One Crown coin in 2015 to commemorate the reign of Queen Elizabeth II.  One could make an argument that any coin featuring Her Majesty is also showing rare gemstones.  This commemorative features the Coronation Crown.  Check out the jewels on this crown in the picture below.