Two Sherlockian Themed Challenge Coins From NYPD's Missing Persons Squad
"… it is, indeed, the missing man."
– The Man With The Twisted Lip (TWIS)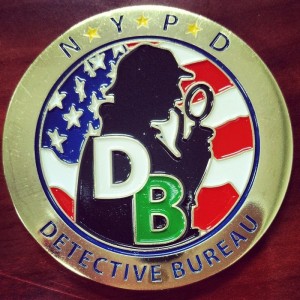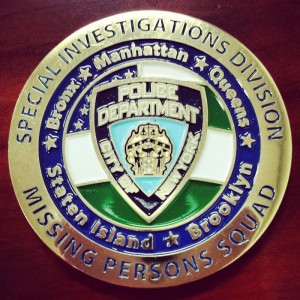 The number of police departments and related agencies that are issuing challenge coins with Sherlock Holmes themes continue to grow. In fact, while this post was being written, we literally had to "stop the presses" as we learned of a second challenge coin from the same unit.
The above pictured challenge coin was the first Sherlock Holmes themed challenge coin we became aware of, shortly after our group was formed in August 2014.  Unfortunately, it took us over a year to track one down so we could gather all the information we need in order to document it on our site. This challenge coin is issued by the Missing Persons Squad of the Special Investigations Division of the New York Police Department's Detective Bureau.
OBVERSE: N (star) Y (star) P (star) D / (right facing silhouette of Sherlock Holmes wearing a deerstalker, holding a magnifying glass and smoking a pipe, superimposed upon a U.S. flag background) / (D B monogram) / DETECTIVE BUREAU
REVERSE: SPECIAL INVESTIGATIONS DIVISION / (star) Bronx (star) Manhattan (star) Queens (star) / (NYPD Police patch on a flag background) / Staten Island (star) Brooklyn / MISSING PERSONS SQUAD
45mm, Round, Hardened Enamel with a shiny gold finish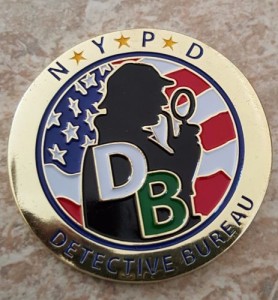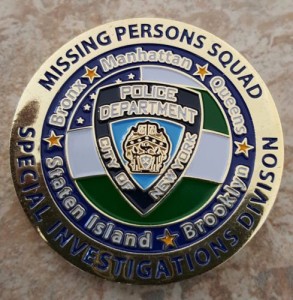 As I mentioned earlier, this post was finished and soon to be posted when we learned of an nearly identical challenge coin for this same squad.  The only major difference is that the legend around the edge of the reverse is flipped around.  There are also some minor differences in the stars and fonts, from the previously described coin.
OBVERSE: N (star) Y (star) P (star) D / (right facing silhouette of Sherlock Holmes wearing a deerstalker, holding a magnifying glass and smoking a pipe, superimposed upon a U.S. flag background) / (D B monogram) / DETECTIVE BUREAU
REVERSE:  MISSING PERSONS SQUAD / (star) Bronx (star) Manhattan (star) Queens (star) / (NYPD Police patch on a flag background) / Staten Island (star) Brooklyn / SPECIAL INVESTIGATIONS DIVISION
45mm, Round, Hardened Enamel with a shiny gold finish