Fantasy 2015 Kingdom of Great Britain £10 Banknote Features Sherlock Holmes
"No living man could tell a Prescott from a Bank of England …"
– The Adventure of The Three Garridebs (3GAR)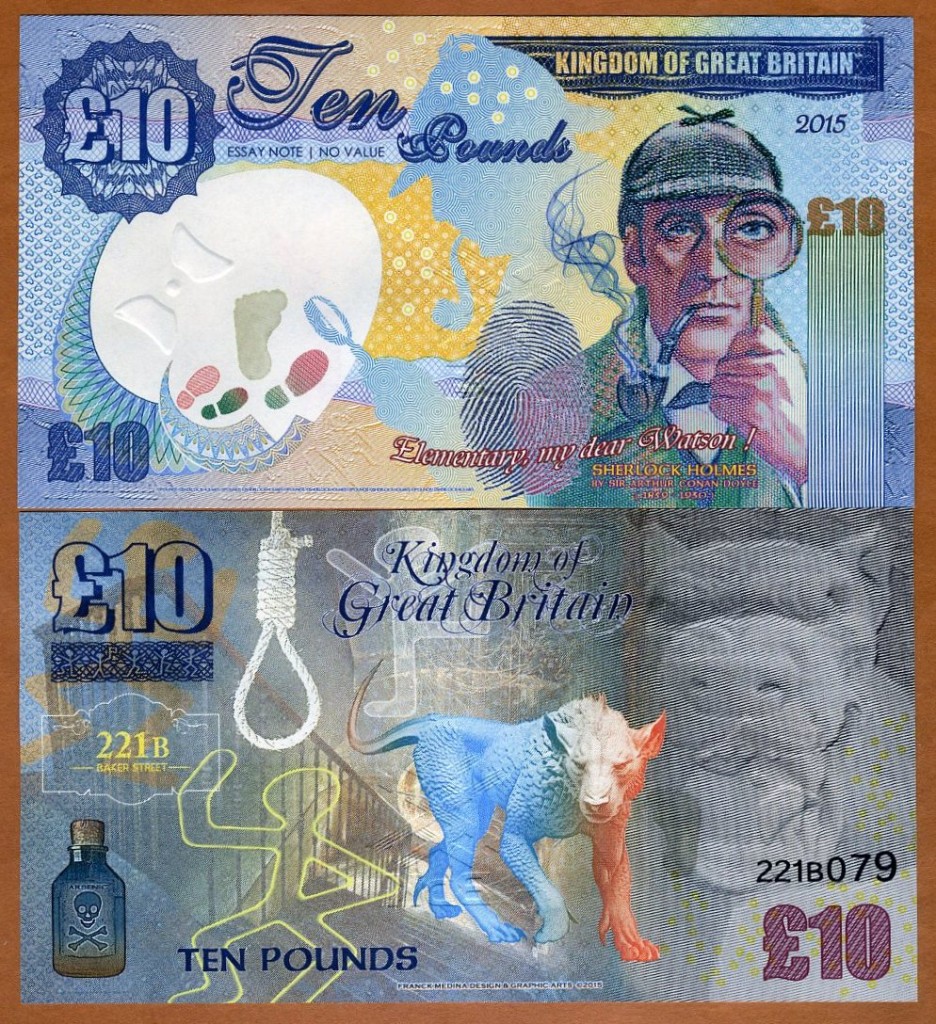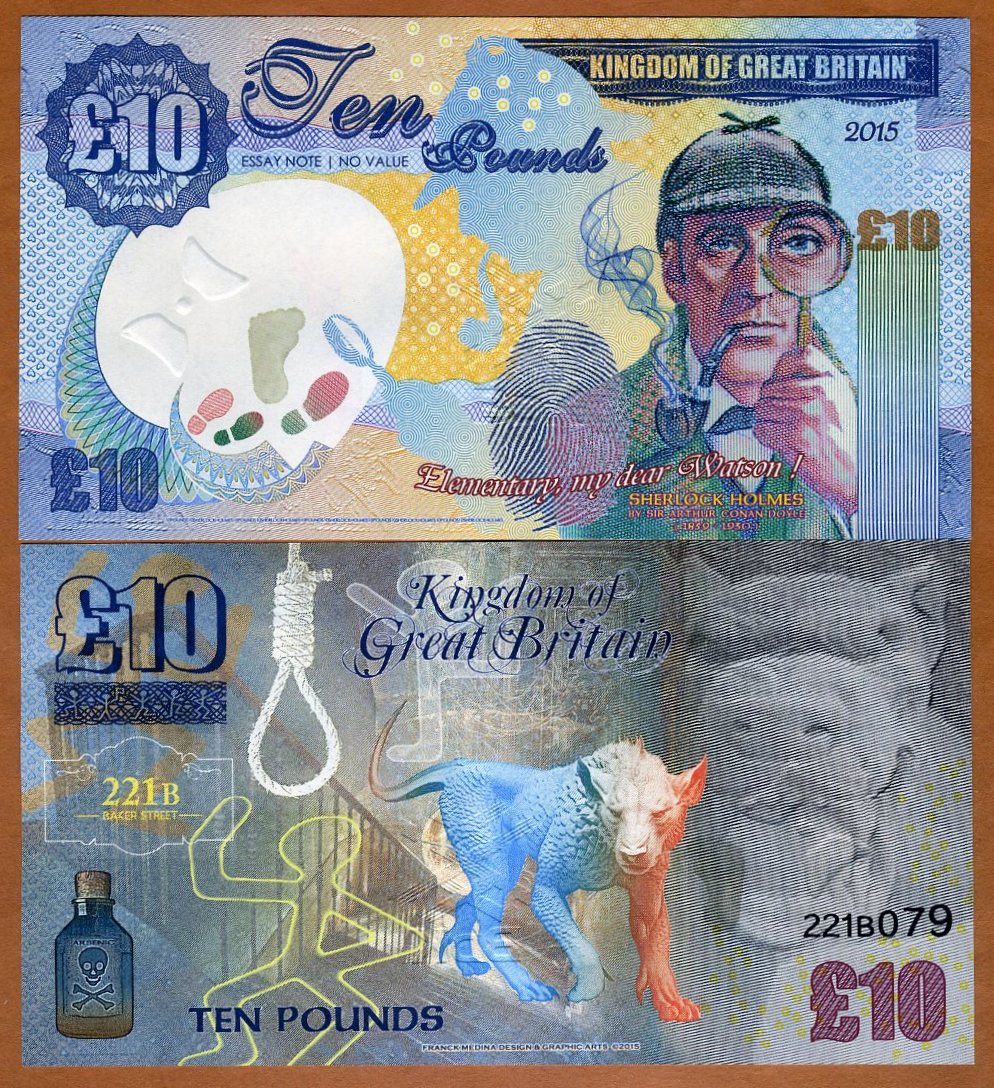 Franck Medina, a French graphic and recording artist, has created a fantasy £10 banknote of the Kingdom of Great Britain that features Sherlock Holmes and various images from the stories of the Canon.
Only 1000 banknotes are being created. In addition to featuring two images of Holmes on the front, the back of the note has images of a giant hound, dancing men figures, poison, and a hangman's noose .
There are multiple security features on these banknotes: UV sensitive security strip, microprint, omron rings, embossed bowtie value identifier, embossed seal of BDK (Banko De Kamberra), hidden word (latent image) ESSAY, individual serial number, ultraviolet sensitive footprint watermark, specialty paper with UV activated threads.
For those interested in purchasing one of these notes, they can be found for sale on a major online auction site.
Frank Medina, as a teenager in Luxembourg, created the Principality of Camberra on August 24,1988, becoming the Kingdom of Camberra later in that year and the Kingdom of Kamberra in 1990. It is purportedly a small Pacific island nation, home to a population of 23,800 who speak Spanish and Kamberri. It is described as a place of "peace, well-being, tolerance and sharing". "Kamberra" is derived from the Kamberri word "kamba'area", meaning "meeting place".The similarity with the name of Australia's capital city, Canberra (named for a Ngunnawal Aboriginal word also meaning "meeting place") is probably deliberate.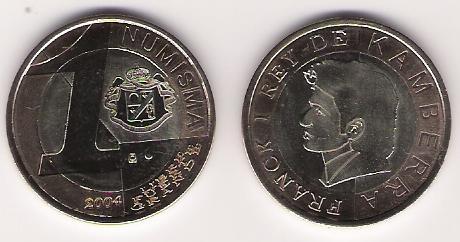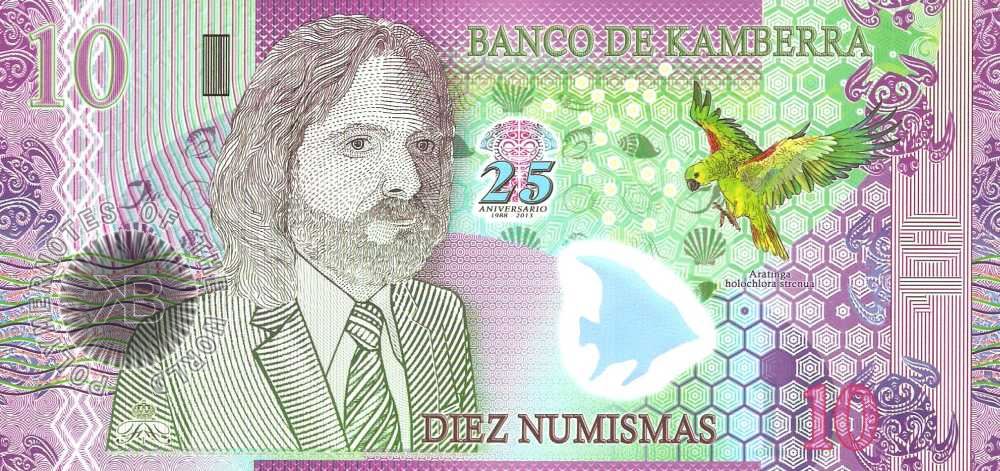 Since the "founding" of Kamberra, many fantasy coins and banknotes have been produced by Medina. In addition to Kamberra, Medina has created banknotes for fantasy nations of the Equatorial Territories and South Pacific States. All banknotes are limited issues and are retired after a brief period of issue. There is a Facebook fan appreciation page for Medina's banknotes, that can be viewed here.
In addition to his talents as a graphic artist, Medina is a recording artist having released several albums and has also appeared in several theatrical, film and television acting roles. More information on this aspect of Medina's life can be found at his website.