Book Review: Sherlock Holmes and the Crosby Murder
"… the terrible death of Crosby the banker."
– The Adventure of The Golden Pince-Nez (GOLD)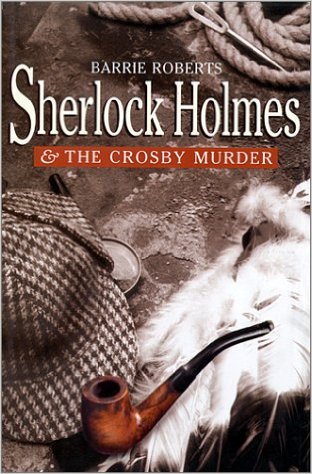 In The Golden Pince-Nez, we are teased with the untold tale of "the terrible death of Crosby the banker." Author Barrie Roberts authored a pastiche on this tale, Sherlock Holmes and the Crosby Murder," in 2002. Other than the mention of Crosby's occupation, there are no other banking inferences to the story.
Frank Mentzel, aka "Merridew, of abominable memory" and our 44th Garrideb, passed along those two reviews of this pastiche.
From Publishers Weekly of May 17, 2002:
After successfully melding the brilliant thinker and the man of action in such earlier works as Sherlock Holmes and the Man from Hell and Sherlock Holmes and the Harvest of Death, British author Roberts fails to give the Great Detective a worthy challenge in his sixth Holmes pastiche. Holmes and Watson act and speak in character, but do so in a plot that seems to borrow heavily from Doyle's The Sign of Four: Rumors of a great plundered treasure from a faraway land, a coded message to be deciphered, a criminal seemingly able to scale sheer surfaces unaided while leaving strange tracks, and narrow escapes from poison and flying weapons. The puzzle begins when Inspector Lestrade delivers a gruesome package containing the shrunken head of a missing banker, Algernon Crosby. Crosby had recently returned from a transatlantic yacht trip to America, where he recruited a new member of his crew who has also disappeared. When the murderer starts stalking Crosby's widow and two young sons at their secluded country home, Watson rushes to the scene to organize a plan of defense. While Doyle himself rarely crafted his classic tales as whodunits, the choice to have the killer's identity, and the general contours of his motive, made obvious halfway through the story lessens the suspense. The not particularly inspired actions taken to trap the villain afford Holmes little opportunity to display his intellectual gifts. Roberts captures the flavor of the originals but little of their drama.
The Daily Telegraph offered up this review:
In the sixth of Barrie Roberts's highly accomplished pastiches of the masterly Sir Arthur Conan Doyle, Sherlock Holmes is facing only dull professional prospects in London when Inspector Lestrade of Scotland Yard arrives at 221b Baker Street with a most peculiar parcel. After a swift but adept examination of the contents inside an ordinary shoe box tied with tarred twine, Holmes announces that the small, leathery-looking object before him is nothing less than the shrunken head of Algernon Crosby, a banker who had gone missing in London six weeks earlier. The rest of Crosby's body, scarred and disfigured, has meanwhile been fished from the Thames. The mystery surrounding Crosby's bizarre and gruesome murder is compounded by other significant missing pieces. Crosby's yacht, the Gyrfalcon, which recently took him and his small crew on a trip to America and the West Indies, has vanished, and with it a burly deckhand known as Teddy the American. The discovery of a curious word chart in Teddy's lodgings puts Holmes and Watson on the trail of a solution. Together they unravel a dangerous plot of curses and a revenge that reaches across the world to a mountain wilderness in America's West. But before Holmes is able to close an investigation that will end in a violent confrontation with the killer in a warehouse on the London docks, Watson will find himself in deadly peril when he is trapped in a heathland pit with three hissing, poisonous lizards. "Entertaining … One of the best imitators of Conan Doyle is Barrie Roberts…."
For those interested in purchasing a copy of this pastiche, it can be purchased by clicking HERE.