The Case of the French Interpreter – November 22, 1954
"You perceive that we have taken you into our confidence over some very private business."
– The Adventure of The Greek Interpreter (GREE)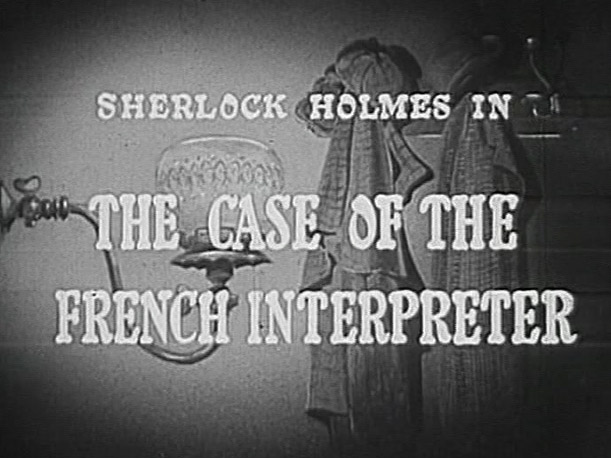 In 1954, Ronald Howard and H. Marion Crawford would star as Holmes and Watson in 39 episodes of a syndicated Sherlock Holmes television series. The 30 minute episodes were produced by Sheldon Reynolds, who would later do another Holmes series, Sherlock Holmes and Dr. Watson, in 1980 and would reuse many of the same episodes.
Many of the stories in the series had similarities to the original stories of the Canon, but with subtle changes. Episode 14, The Case of the French Interpreter, is an excellent example of this. Based on The Greek Interpreter, references to Mycroft Holmes are not mentioned and the Diogenes Club becomes the St. Denis Club. Mr. Melas is known as Dubec in this episode.
In the Canon version of The Greek Interpreter, Melas is paid five gold sovereigns for his work.  During the 14:00 minute of this episode, Dubec is given several banknotes for his payment.
This episode originally aired on November 22, 1954.
PLOT / SPOILER ALERT:
A French interpreter is repeatedly taken at gunpoint to a residence somewhere outside of London. He's ordered to translate between two Englishmen and a Frenchman they are holding hostage. The captors are starving the man until he signs over the wealth of his sister.