There Are Five Sovereigns Here – Numismatic References in The Greek Interpreter
"There are five sovereigns here," said he, walking up to me, "which will, I hope, be a sufficient fee."
– The Adventure of The Greek Interpreter (GREE)
The above quote is the only reference to money or a coin in The Adventure of The Greek Interpreter and is found at line 233 of the story. The fee is offered to Mr. Melas by the older accomplice of Harold Latimer, after he translated a conversation between them and Paul Kratides.
Most chronologists date this story as happening in 1888, while the story was published in 1893. There were only two major designs of sovereigns circulating at that time.
From 1838 through 1874, gold sovereigns featured the "Young head" of Queen Victoria on the obverse and the royal shield on the reverse. The shield design would be retired in 1874.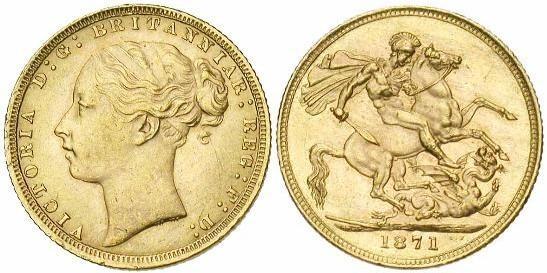 In 1871, Benedetto Pistrucci's design of St. George slaying the dragon would return to grace the reverse of the gold sovereign. This would be the first time his designed had been used on the sovereign since the reign of King George III. This pairing of designs would continue through 1885.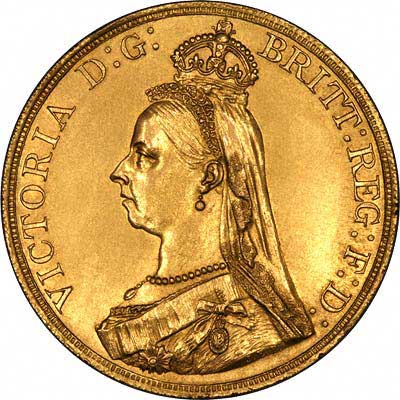 In 1887, the portrait of Victoria was changed to honor her golden jubilee and this design is commonly referred to as the "Jubilee head." The reverse continued to feature Pistrucci's design. So there is a small chance that this new design was one of the five sovereigns that were paid to Mr. Melas.
The "old head" or "veiled head" design was first issued in 1893, the same year as the story was published. The reverse would still feature the design of St. George slaying the dragon. The last sovereign with this portrait was struck in 1900.
The sovereign was worth one pound, which was made up of 20 shillings. So 5 sovereign were worth approximately at the time of the story. In today's values, this would be approximately 408.50 pounds and $658.