Some Medallic Remembrances of London Bridge
"It was a quarter to ten before we reached London Bridge…"
– The Adventure of The Greek Interpreter (GREE)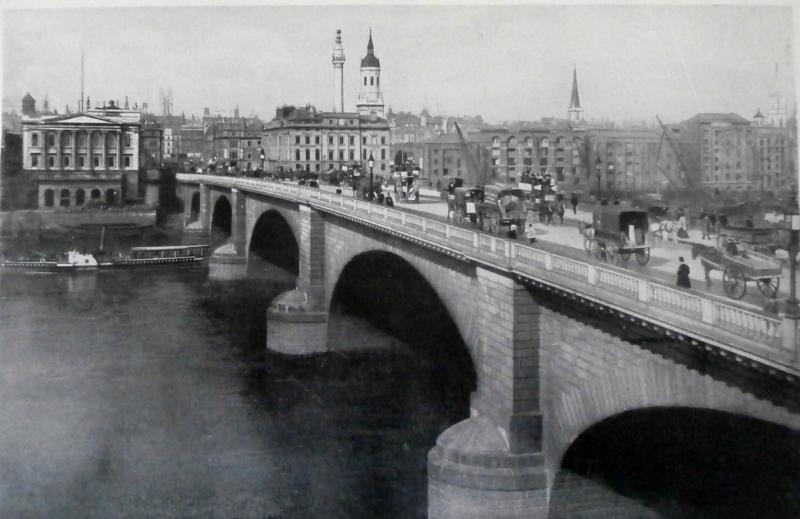 London Bridge is mentioned in The Adventure of The Greek Interpreter as Holmes and Watson rush to rescue Mr. Melas from his abductors.  London Bridge and the nearby London Bridge Station are also referenced in the following stories from the Canon: The Man With The Twisted Lip, The Adventure Of The Norwood Builder, The Adventure Of The Bruce Partington Plans, and The Adventure Of The Retired Colourman.
In this post, we will take a look at a few medals and tokens that feature the London Bridge that existed for the stories in the Canon.
Construction of the "new" London Bridge began in 1824 to replace the 600 year old London Bridge that desperately needed to be replace.  The foundation stone was laid on June 15, 1829 and the bridge was completed and opened for use on August 1, 1831.  The bridge would continue in use until a replacement bridge was build around the now "old' bridge starting in 1967.  The "old" bridge was disassembled carefully and the stones recorded to be sold to an American entrepreneur. After the "old" bridge had been removed, the two replacement bridges had a central span build to connect the two bridges into one "new" London Bridge.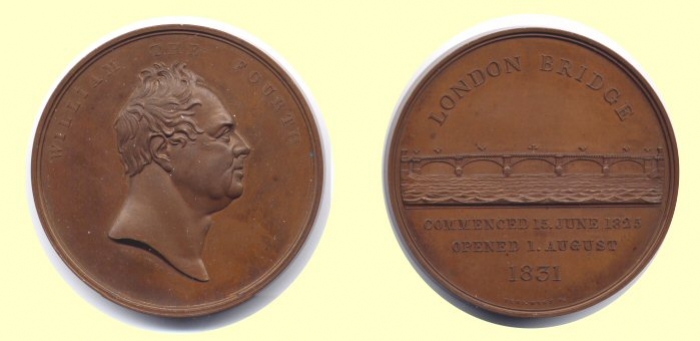 Prior to the opening of the bridge on August 1, 1831 a huge banquet was held in a tent on the bridge to celebrate.  King William IV and Queen Adelaide attended the festivities.  This 51mm bronze medal was engraved by Benjamin Wyon, who earlier in 1831, became Chief Engraver of the Seals by appointment of the King.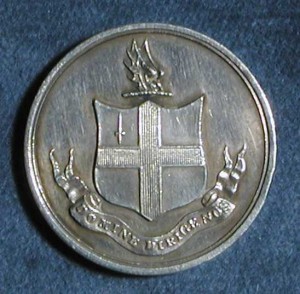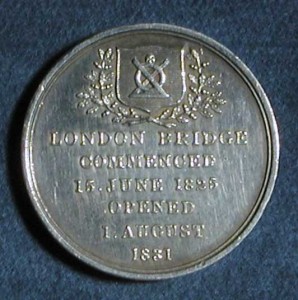 Wyon also designed this 27mm silver medal (also struck in bronze and white metal, both of which are much more common), featuring the seal of the city of London on the obverse and the Bridge-House Estates mark within an oak wreath on the reverse.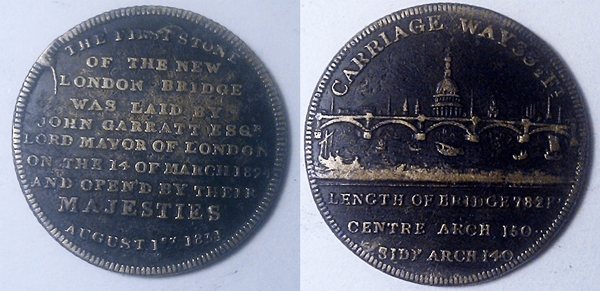 This 28mm base metal token also commemorates the opening of the bridge.  This token states that the first stone of the bridge was laid March 14, 1824 and not the date of June 15, 1824, which is the generally accepted date.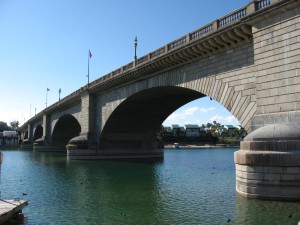 The dismantled "old" London Bridge would be packed up and sent through the Panama Canal on a journey that would take it to Lake Havasu City, Arizona. The reassembled bridge would be rededicated on October 15, 1971.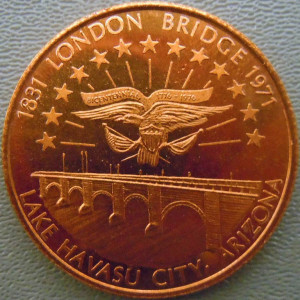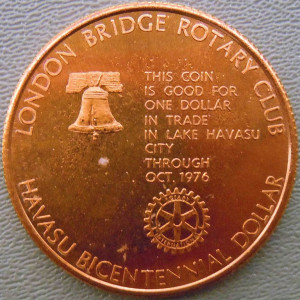 There are several modern medals that feature the reassembled bridge. The London Bridge Rotary Club has issued many annual medals featuring the bridge, such as this one from 1976.