SherloCON 2016 Announces Dates and Medal Design
"He is the Napoleon of crime, Watson."
– The Adventure of The Final Problem (FINA)

Deutsche Sherlock Holmes Gesellschaft, a Sherlock Holmes society based in Germany, has annouced the date of it's next biannual conference, SherloCon.  The 2016 version will be held April 22-24, 2016 in Saarbrücken and the conference theme will be the 125th anniversary of Professor Moriarty's death.  You can keep up to date on this conference's news by checking out their website.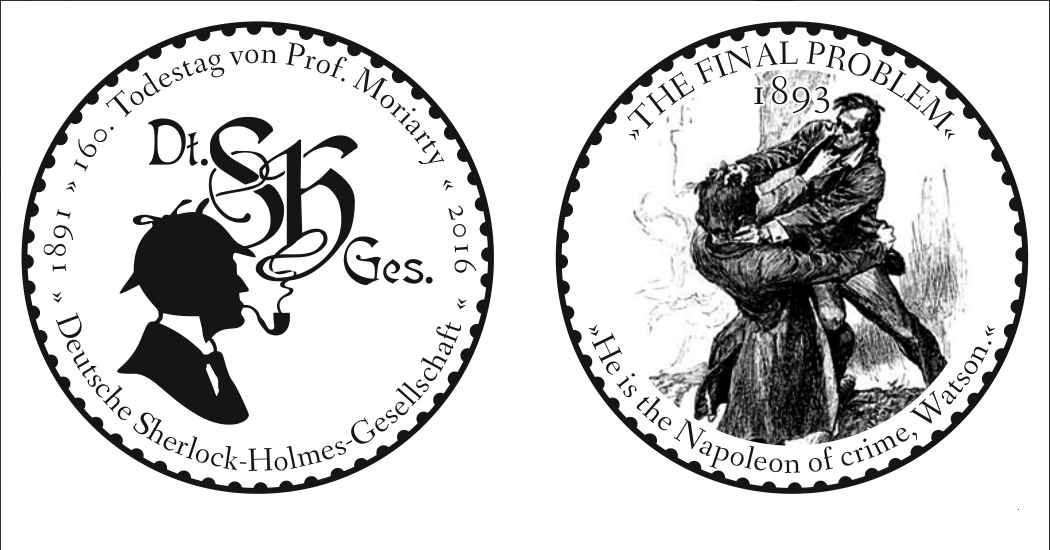 They have also released the design of the 2016 conference medal, which has a striking version of the scuffle between Holmes and Moriarty as its central design.  We will hold off on doing a full description until the medal is actually struck, as their might be design changes between now and next April.
It appears that the current version of the design may have a mistake.  Does anyone else see a potential problem with the proposed design?
This will be the third medal in the series – we discussed the 2012 and 2014 medals earlier.  As we get closer to the conference, we'll update you on the medal and have ordering information.