Was Spink & Son's Selling a Sherlock Holmes Medal in 1902?
"You don't happen to have a Raphael or a first folio Shakespeare without knowing it?"
– The Adventure of The Three Gables (3GAB)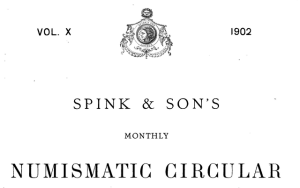 With the advances that are being made in digitizing older newspapers and magazines, it is amazing what we can now discover on the internet. While doing a recent search, I came across the February 1902 Spink & Son's Monthly Numismatic Circular with a mention of Sherlock Holmes on page 5:69 in their Catalogue of Coins and Medals for Sale section.
The item in question is a medal of William Shakespeare, but features a bust of Sherlock Holmes.
The lot description reads as follows:
80284  Shakespeare. White metal Medal, with rim and loop for suspension. Size: 45 mill. Obv. Outer rim: AVRICE AND TITLED LUST ALONE WE BLAME. YET BLUSH WE MUST FOR "TIS A NATION'S SHAME". Inner legend: THIS IS THE JEW, WHICH SHAKESPEARE DREW. Bust of Sherlock Holmes to l.; beneath, VP | NO PRIVATE BOXES. Reverse. THE DRAMAS, LAWS, THE DRAMAS PATRONS GIVE. AND HE WHO LIVES TO PLEASE. SHOULD PLEASE TO LIVE. Within oak-wreath: WHAT D'YE | WANT? | OF OB & DPO.          Extremely Fine           2 Shillings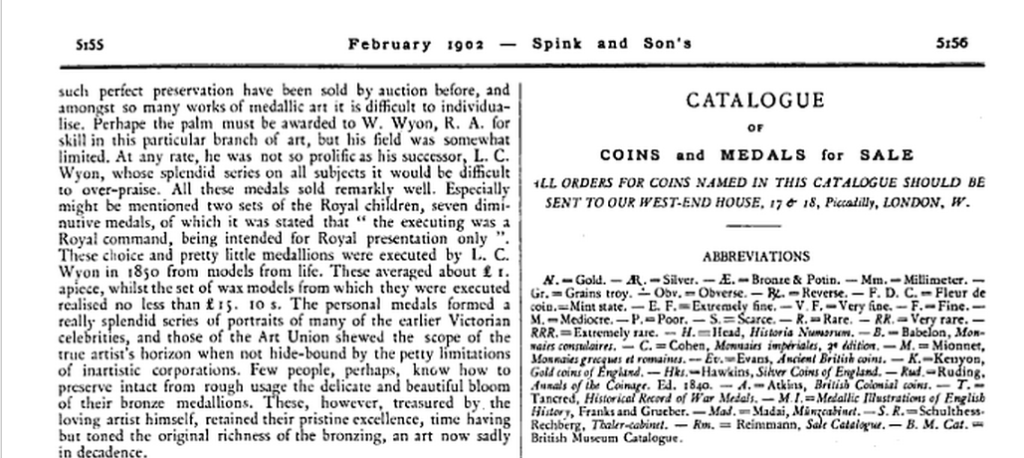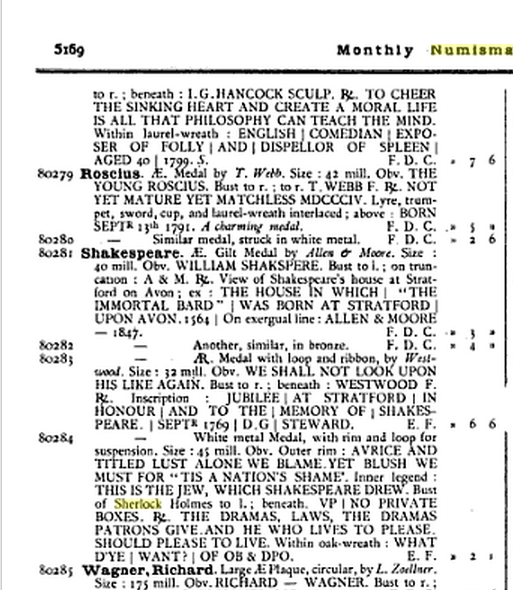 When we first started writing this post, our intent was to ask our readers if they could supply any additional information about this medal and explain the Shakespeare / Holmes connection. While typing this up, we finally had the brilliant thought to search for some of the legends on the medal and maybe come with some more information. We were able to do much better with a find from an Australian coin auction house.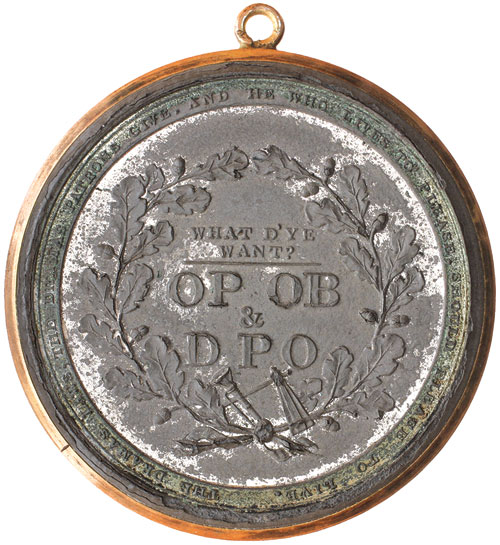 Noble Numismatics Pty Ltd Sale 91 Lot 4085 July 23, 2009
Lot 4085    SESSION 13 (2.30pm Thursday 23 July)    Great Britain – Historical Medals
GRAND THEATRICAL MEDAL, undated, in white metal inside a gold filled frame (44mm) with loop suspension, obverse, an allegorical head illustrative of Folly and Avarice, around, 'This is the Jew which Shakespeare drew', below, 'V P / No Private Boxes', legend, 'Avarice and titled lust alone we blame / Yet blush we must for 'tis a Nation's shame.', reverse, 'Whatd'ya / want / OP OB & DPO (Old Prices, Open Boxes, and Deference to Public Opinion) all wreathed in a garland of oak, at foot the rattle and trumpet, motto around, 'The Drama's laws the Drama's Patrons give, And he who lives to please, should please to live.' Some oxidisation otherwise extremely fine.
Originally sold at Hathaway's Newspaper Office, Royal Exchange. With original contemporary descriptive sheet sold with the medal.
Estimated at $100 AUD, the medal sold for $250 AUD.
To my thinking, these two descriptions are for the same medal.The bust on the medal gives no indication of Sherlock Holmes (deerstalker cap, pipe, etc.) So how do we explain Spink's 1902 description of this being Holmes?
Any thoughts?