2015 March of Dimes Dollar Features Roosevelt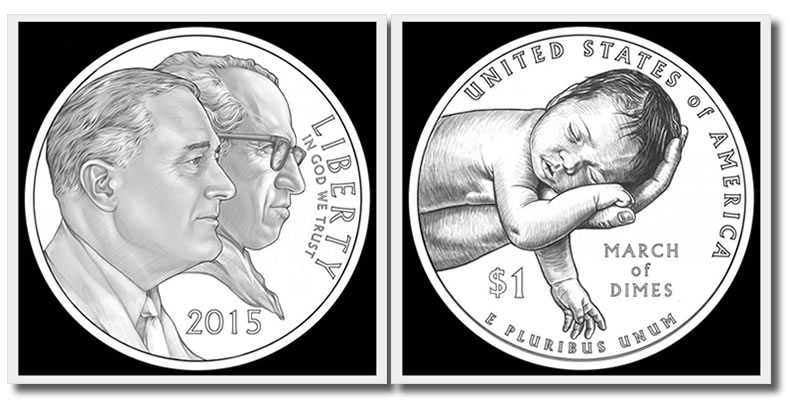 The 2015 March of Dimes commemorative dollar coin will feature Dr. Jonas Salk along with BSI honorary member Franklin Delano Roosevelt.
From the U.S. Mint's press release:
President Franklin D. Roosevelt's personal struggle with polio led him to create the National Foundation for Infantile Paralysis (now known as the March of Dimes) on January 3, 1938, at a time when polio was on the rise.
The Foundation established patient aid programs and funded research for polio vaccines developed by Drs. Jonas Salk and Albert Sabin.  Tested in a massive field trial in 1954 that involved 1.8 million schoolchildren known as "polio pioneers," the Salk vaccine was licensed for use on April 12, 1955, as "safe, effective, and potent."  The Salk and Sabin polio vaccines ultimately ended the polio epidemics in the United States.
With its original mission accomplished, the Foundation turned its focus to preventing birth defects, prematurity, and infant mortality in 1958.  It began to fund research into the genetic, prenatal, and environmental causes of more than 3,000 birth defects.  The Foundation's investment in research has led to 13 scientists winning the Nobel Prize since 1954.
Since its founding, the March of Dimes has advocated for the passage of legislation critical to maternal and child health at both the federal and state levels, such as the Birth Defects Prevention Act, Children's Health Act, PREEMIE Act, and Newborn Screening Saves Lives Act.  The organization actively supports programs and funding related to prematurity prevention, newborn screening, birth defects, access to health insurance and health care, tobacco cessation, and many more issues that promote healthy pregnancies and healthy babies.
Signed into law December 18, 2012, the March of Dimes Commemorative Coin Act (Public Law 112-209) requires the Secretary of the Treasury to mint and issue silver dollar coins in recognition and celebration of the 75th anniversary of the establishment of the March of Dimes Foundation.  A $10 surcharge collected from the sale of each coin is authorized to be paid to the Foundation to help finance research, education, and services aimed at improving the health of women, infants, and children.
The obverse portraits of Roosevelt and Salk were designed by Paul C. Balan and sculpted by Michael Gaudioso.  The reverse was designed an sculpted by Don Everhart.  The 90% silver coins will have a mintage limit of 500,000, divided between uncirculated and proof options.
Several of the designs submitted for consideration included Roosevelt or the dime that features his portrait.  Nine were suggestions for the obverse, with another five for the reverse.
CoinWeek.net originally reported all of the proposed designs for this coin.