"During my school-days…"
– The Adventure of the Naval Treaty
Many are aware of the Sherlockian tie-ins to Haverford College. Christopher Morley, founder of the Baker Street Irregulars was born at Haverford while his father taught mathematics there. Morley, along with his brothers Frank and Felix, would all later graduate from the College. Felix would later become President of the College. Haverford College also posesses the original manuscript for The Adventure of the Second Stain. We are pleased that Dave Baldwin is allowing us to reproduce his Haverford College Medal Series post from June 2017 with us below. – Editor
Haverford College Medal Series
"Haverford was founded in 1833 as Haverford School by a group of New York and Philadelphia Quakers who sought to create an institution of learning grounded in Quaker values. Though we are non-denominational today, our Quaker roots influence many of our values and processes.
In the beginning, a seven-member faculty educated 21 Quaker boys in Greek, Latin, natural and moral philosophy, mathematics, and literature in that first year. Students lived, ate, and took classes in Founders Hall, a building that currently houses meeting rooms, faculty offices, and College administration, including the Office of the President.
By the turn of the 20th century, Haverford had become a national institution, competing for students and faculty with leading institutions in the nation. If you're applying to Harvard take a look at this custom paper writing service to see how it can help you keep on top of your deadlines. For many people, going to college is a massive achievement, as it can be a step to achieving a career. With this being said, just because you get in, the work doesn't stop there. Even if you do start falling behind in the early stages, it is important to remember that there are solutions such as using the services a writing company can provide, in order to help you get back on track with your work and meet deadlines. College can be difficult at times, but what isn't in life? You'll see the benefits in the long run.
Although Haverford began admitting women as first-year undergraduate students only in 1980, Haverford's commitment to educating women began as early as 1917 and has been greatly strengthened by cooperation with Bryn Mawr College, which was also founded by Orthodox Friends. Today, women comprise half of Haverford's student body, and the Bi-College (Bi-Co) relationship continues to enrich the academic, cultural, and extracurricular offerings of both institutions.
Haverford has evolved into a college with both a wide-ranging academic program (students study topics from Biophysics to Peace and Conflict Studies, though we still offer Latin) and a diverse scholarly community. Today, with over 100 faculty members and a coeducational student body, Haverford enrolls nearly 1200 students each year representing a wide variety of ethnic and religious backgrounds and a wide geographic area."
(From the Haverford College website)
1869 Haverford College / Society of Friends Medal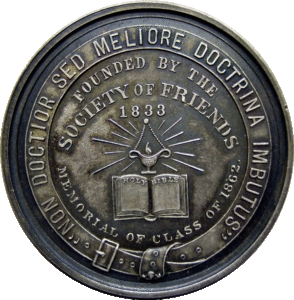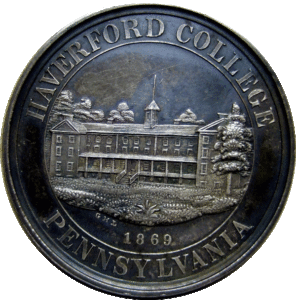 Silver, 42mm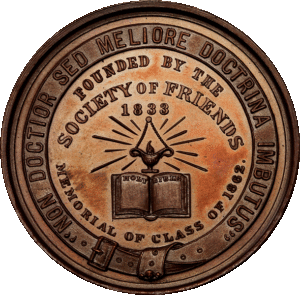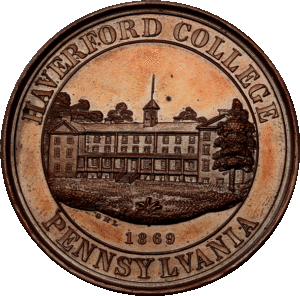 Bronze/Copper ?, 42mm (Image courtesy of John Salley)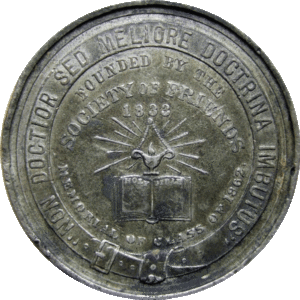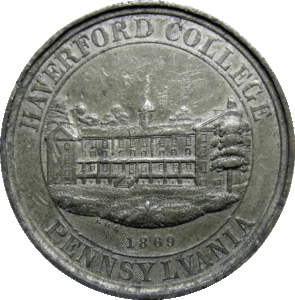 White Metal, 42mm
"3. A Memorial Medal, designed by an alumnus of Haverford College, and executed by the well-known artist, Geo. H. Lovett, of New York. The obverse presents an accurate south-front view of the main building, with the legend, " Haverford College, Pennsylvania, 1869." Reverse—" Founded by the Society of Friends, 1833," above an open Bible, over which stream the rays from a suspended lamp, symbolical of Haverford's fundamental doctrine embodied in her motto: " Non Doctior Sed Meliore Doctrina Imbutus" which appears in a heraldic garter surrounding the whole. The medal is placed by its designer at prices barely sufficient to cover cost of manufacture and transmission, as it is his wish to make it a permanent memento within reach of all interested in the College. Price, in bronze, $1; white metal, 50 cents; silver, $ 5. Of the silver, only ten were struck, they being intended more especially for cabinet collectors, and the number, therefore, has been strictly limited."
(from "The Banker's Magazine and Historical Register, Volume Twenty-Eighth, from July1873 to June 1874 inclusive", published by I. Smith Homans, Jr., New York)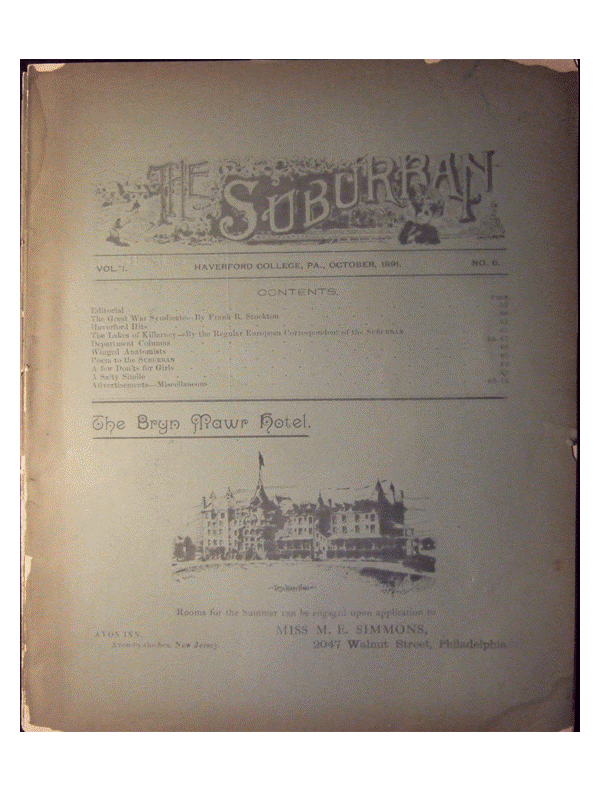 Haverford College Alumni Association Undergraduate Medal
From The Haverford College Bulletin, Vol. 17, No.3, April 1919.
"The Association of the Alumni, in the year 1875, established an annual prize of $50, either a gold medal or an equivalent value in books and bronze medal, for excellence in composition and oratory."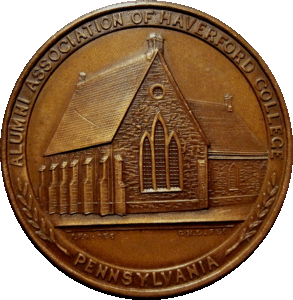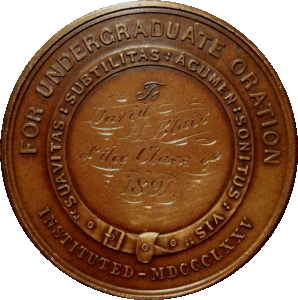 Bronze, 42mm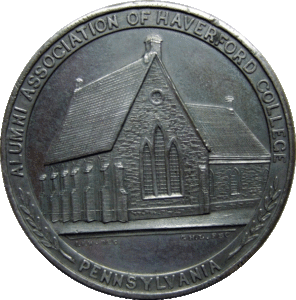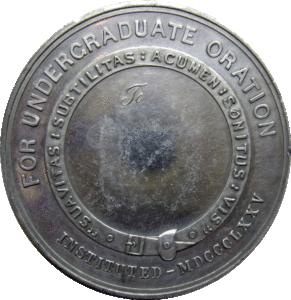 White Metal, 42mm
IMAGE NEEDED
Gold?, 42mm
The following entry from The American Journal of Numismatics and Bulletin of American Numismatic and Archeological Societies, Quarterly, Volume XI, July 1876 – July 1877 indicates these medals were struck in white metal, bronze, and gold. "Mr Colburn in behalf of IF Wood Esq presented the Society with two impressions in bronze and white metal of the Haverford Alumni Prize Medal Obverse View of building Legend Alumni Association of Haverford College and Pennsyl between two branches of laurel Reverse Legend For undergraduate's oration Instituted mdccclxxv round a garter inscribed Suavitas Subtilitas Acumen Sonitus within which a space for name of recipient The medal awarded is struck in gold Mr Wood wrote a letter describing the medal and the reasons for striking it which was read and the thanks of the Society were voted for the gift and his interesting account of the same" I have not seen nor do I have any record of a gold example. Do any still exist?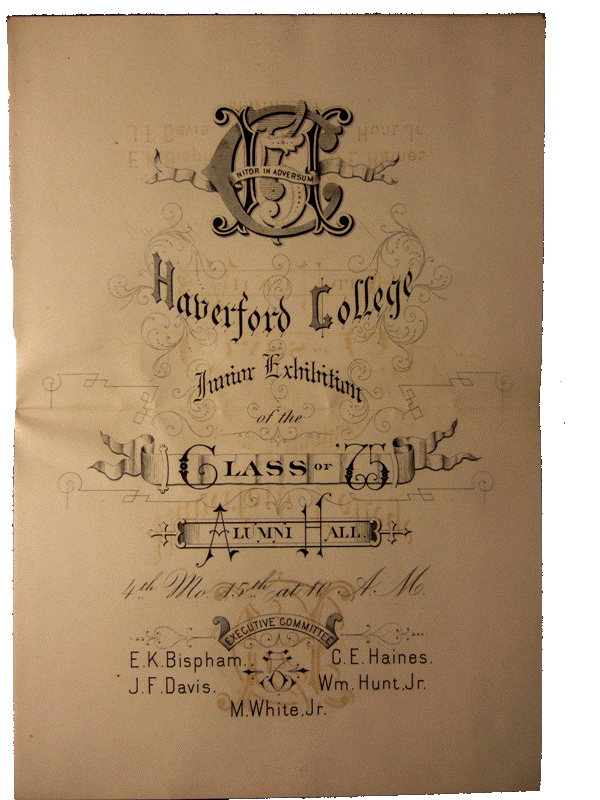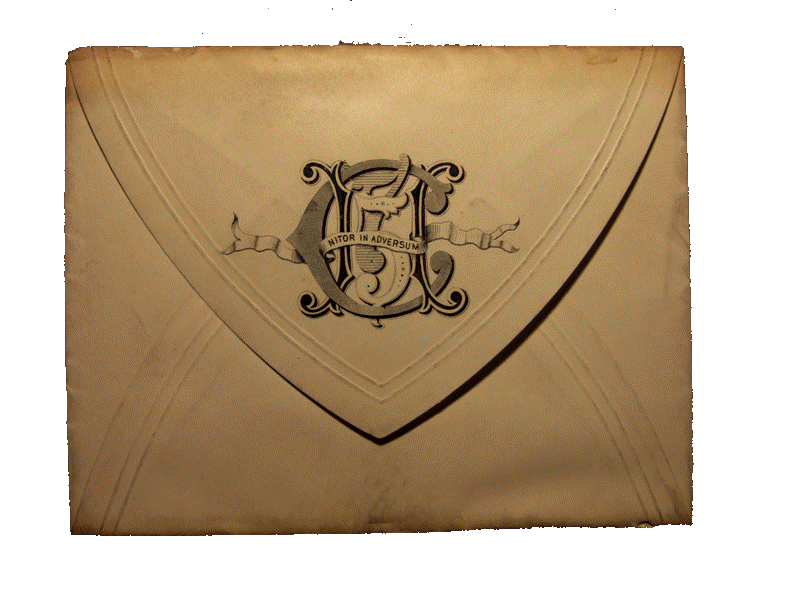 Invitation to the Class of 1875 Haverford College Junior Exhibition with envelope
Haverford College Alumni Association /Founders Hall Medal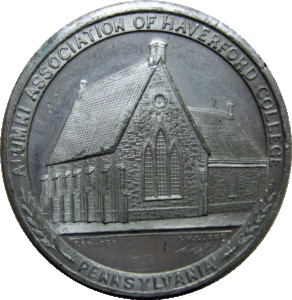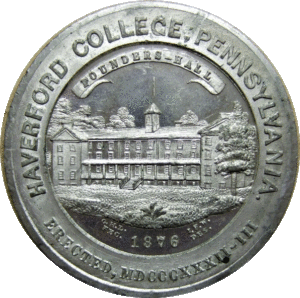 White Metal, 42mm
Haverford College Wood's Series B, No. 1 Medal
IMAGE NEEDED
Type 1, Bronze, 42mm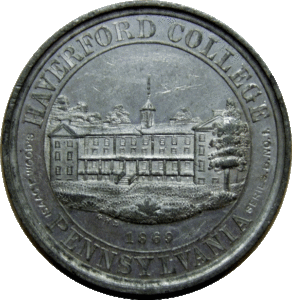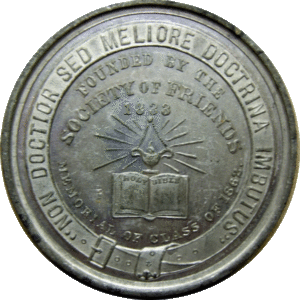 Type 1, White Metal, 42mm
The type 1 medal has the lettering "Isaac F. Wood's Series B. No.1" incuse as if these were added after striking. This is the same medal as the 1869 Society of Friends Medal with the exception of this inscription. Why? Is this another case of George H. striking pieces to offer for sale to the public on the order of Isaac. F. Woods?
IMAGE NEEDED
Type 2, Silver, 42mm
IMAGE NEEDED
Type 2, Bronze, 42mm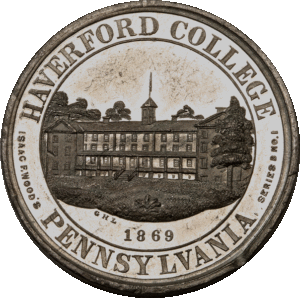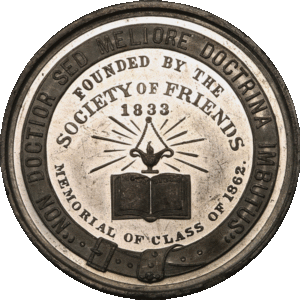 Type 2, White Metal, 42mm
The type 2 medal is the same as above with the exception of the legend "Isaac F. Wood's Series B. No 1" being raised indicating it had been inscribed in the die.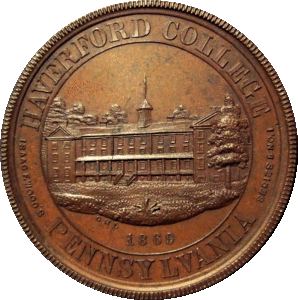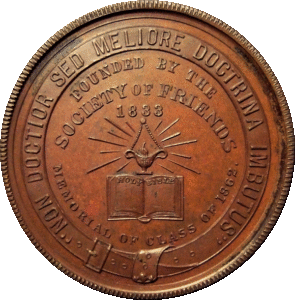 Type 3, Bronze, Reeded Edge, 42mm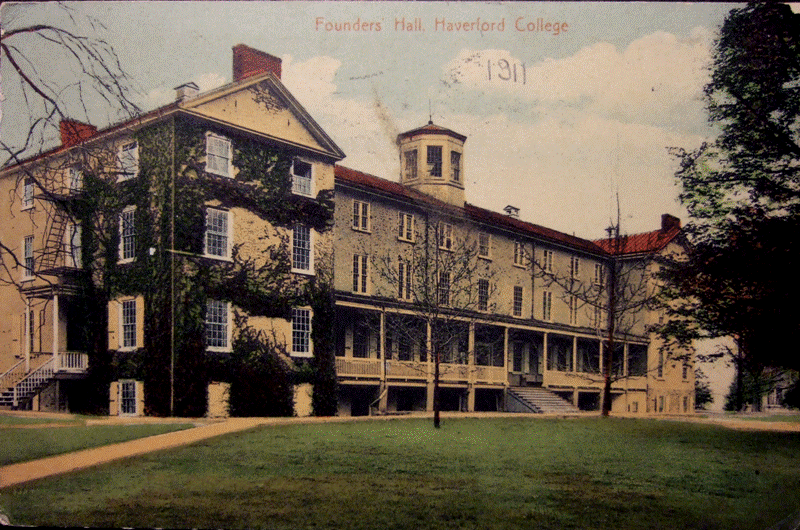 Haverford College Wood's Series B, No. 2 Medal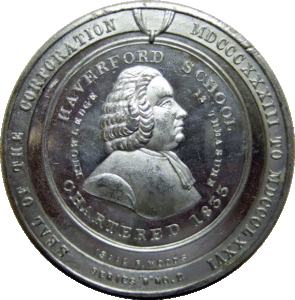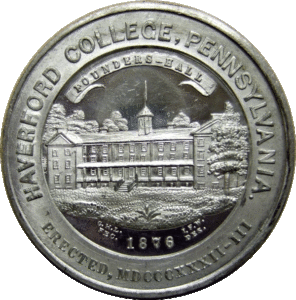 Type 1 – scroll above building, White Metal, 42mm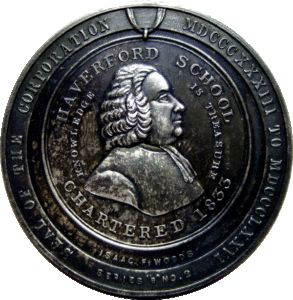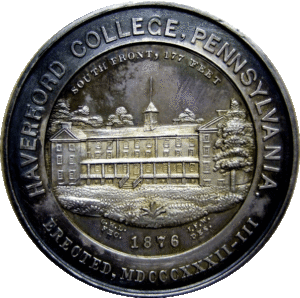 Type 2 – legend above building, Silver, 42mm
Only 10 struck in silver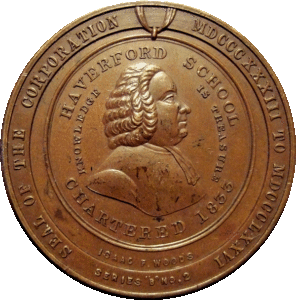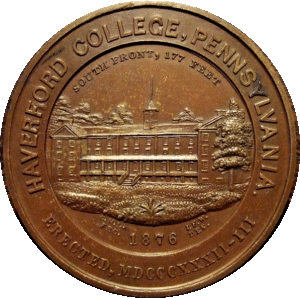 Type 2 – legend above building, Bronze, 42mm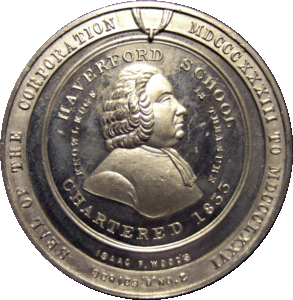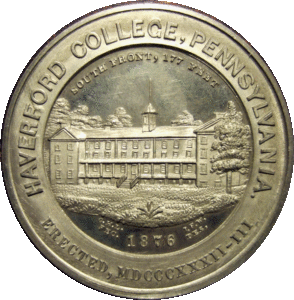 Type 2 – legend above building, White Metal, 41.8mm
Several members of The Fourth Garrideb are proud graduates of Haverford and we would welcome their comments (as well as from others) on these items. – Editor
The original blog post was published at the Lovett Tokens & Medals blog, maintained by Dave Baldwin. Our thanks to Mr. Baldwin for allowing us to share this here.